'2 For 1'  Curated by Thorp Stavri & HAZE
Public Programme
'2 For 1' Curated by Thorp Stavri & HAZE
PRIVATE VIEW Thursday 15th June 6-9pm
Open 16th June – 7th July 2023
Thursday – Sunday 12 – 6pm
50 Celebration Avenue, Stratford, London E20 1DB
Kindly supported by Get Living
"2 for 1" is a phrase commonly associated with consumerism and the retail industry, whereby customers can purchase one item and receive a second one at no additional cost. However, the "2 for 1" concept can extend beyond the retail sector, symbolising the notion of receiving additional and unexpected advantages, or opportunities in various contexts. As such, this exhibition adopts the well-known retail term, not only as a nod to the building's past – a Sainsbury's supermarket, but also to the collaboration between two curatorial platforms – Thorp Stavri (Eric Thorp and Nicholas Stavri) and HAZE (Camilla Bliss and Solanne Bernard), as they explore the concepts of duality and multiplicity.
As nomadic curatorial platforms, we have embedded collaboration and partnering into the core of our practice. Recognising the limitations of working independently, we have consistently fostered support systems that extend beyond our individual capacities. Having previously worked together on the monumental Factory Project, we unite again for a new exhibition with a view to highlighting the importance of partnerships, by shining a spotlight on the United Nations' 17 Sustainable Development Goals.
With Goal 17 (Partnerships for the Goals) as our keystone, this exhibition highlights the conversations raised by the 17 Sustainable Development Goals (SDGs):
1. NO POVERTY
2. ZERO HUNGER
3. GOOD HEALTH AND WELL BEING
4. QUALITY EDUCATION
5. GENDER EQUALITY
6. CLEAN WATER AND SANITATION
7. AFFORDABLE AND CLEAN ENERGY
8. DECENT WORK AND ECONOMIC GROWTH
9. INDUSTRY INNOVATION AND INFRASTRUCTURE
10. REDUCED INEQUALITIES
11. SUSTAINABLECITIESANDCOMMUNITIES
12. RESPONSIBLE CONSUMPTION AND PRODUCTION
13. CLIMATE ACTION
14. LIFE BELOW WATER
15. LIFE ON LAND
16. PEACE JUSTICE AND STRONG INSTITUTIONS
17. PARTNERSHIPS FOR THE GOALS
The SDGs were adopted by all United Nations Member States in 2015, and provide a shared blueprint for peace and prosperity for people and the planet, now and into the future. The Goals are an urgent call for action by all countries – developed and developing – in a global partnership. They recognize that ending poverty and other deprivations must go hand-in-hand with strategies that improve health and education, reduce inequality, and spur economic growth – all while tackling climate change and working to preserve our oceans and forests. Through this collaborative exhibition, we aim to activate the dynamic energy of art to create a dialogue with the SDGs and inspire creatives and communities in a positive and meaningful way.
Expanding on the aims set by the SDGs, 2 For 1 brings together 32 artists whose practices address one or more of these goals and explore the important topics raised by them – highlighting the strength in collective action towards creating a sustainable and equitable future for all.
Throughout the month-long exhibition, the project aims to encourage links between sustainability, creatives and a wider community – fostering collaborations between community groups, artists, and organisations via artist-led activities and events hosted by industry professionals.
PARTICIPATING ARTISTS: Conor Ackhurst, Solanne Bernard, Ingrid Berthon-Moine, Camilla Bliss, Mark Conolly, John Costi, Bill Daggs, Charlotte Dawson, Marc-Aurèle Debut, Jo Dennis, Evangelia Dimitrakopoulou, Emmely Elgersma, Sally Hackett, Bart Hajduk, Alia Hamaoui, Byzantia Harlow, Natalia Janula, Marie-Louise Jones, Katia Kesic, Jon Kipps, Shepherd Manyika, Alexi Marshall, Lindsey Jean McLean, Sophie Mei, Maria Positano, Anna Reading, Ally Rosenberg, Hannah Rowan, Sam Taylor, Melania Toma, Andrea V. Wright
THE CURATORS:
Thorp Stavri are a London based curatorial duo, comprising curators Eric Thorp and Nicholas Stavri. They are committed to developing and supporting artists' practices and accessibility to art through exhibitions, collaboration, residencies, talks, workshops and an arts podcast. Thorp Stavri have been awarded the Arts Council England Project Grant for the production of 'The Factory Project' at Thameside Industrial Estate, London (2021) and for 'Five Hides' at the historic Manor Place Baths, London (2020). Earlier this year they curated their first museum exhibition, in collaboration with Two Temple Place. Future projects include exhibitions at The Royal Society of Sculptors, London and at the Art House, Wakefield.
HAZE is an artist-led curatorial duo founded in 2021 by Camilla Bliss and Solanne Bernard, based in London.
Camilla and Solanne started their first curatorial project during the pandemic, when galleries and exhibitions were closed down. Their goal is to enable a more fluid and adaptive approach to exhibiting art. Their focus on organising shows in alternative spaces, aims to support and showcase local and international emerging artists, giving them an opportunity to explore experimental directions within their practice.
HAZE's first show was ́Fertile Laziness' (2021) in Platform Southwark, followed by an invitation from Thorp Stavri to take part in the ́Factory Project' with ́Peach Fuzz' (2011). The duo's most recent group exhibition was ́Destructive Mollusc' (2022) in Staffordshire Street Studios.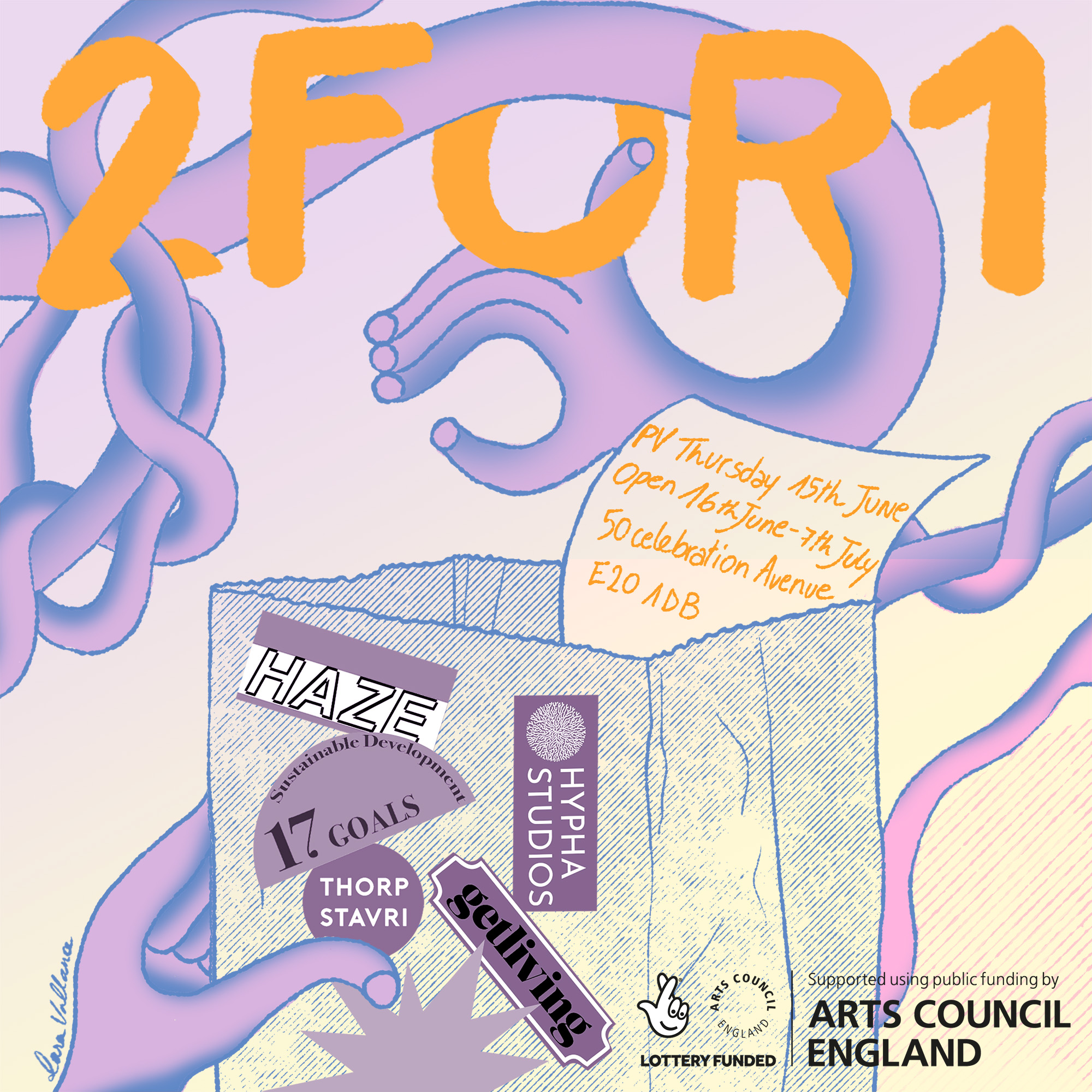 Contact Information
Email: [email protected]; [email protected]
Websites: thorpstavri.co.uk | www.hazeprojects.com
Socials: @eric_thorp_ @Nicholas_Stavri @thorpstavri @camilla_bliss @solannebernard @hazeprojects
@conor_ackhurst @ingridberthonmoine @mark__connolly @bapou_costi @billdaggs @charlottedawsonart @marcaureledebut @jodennis__ @d_mtrk @emmely @salhack @barthajduk @aliahamaoui @byzantiaharlow @nataliajanula @marie_louise_jones_ @katia_kesic @jonkipps @shepadimusgotnopliers @aleximjmarshall @lindseyjeanmclean @sophie.m.e.i @maria.positano @annareading @allyrosenbergartist @rowanhannah @samtaylorart @melaniatoma @andreavwright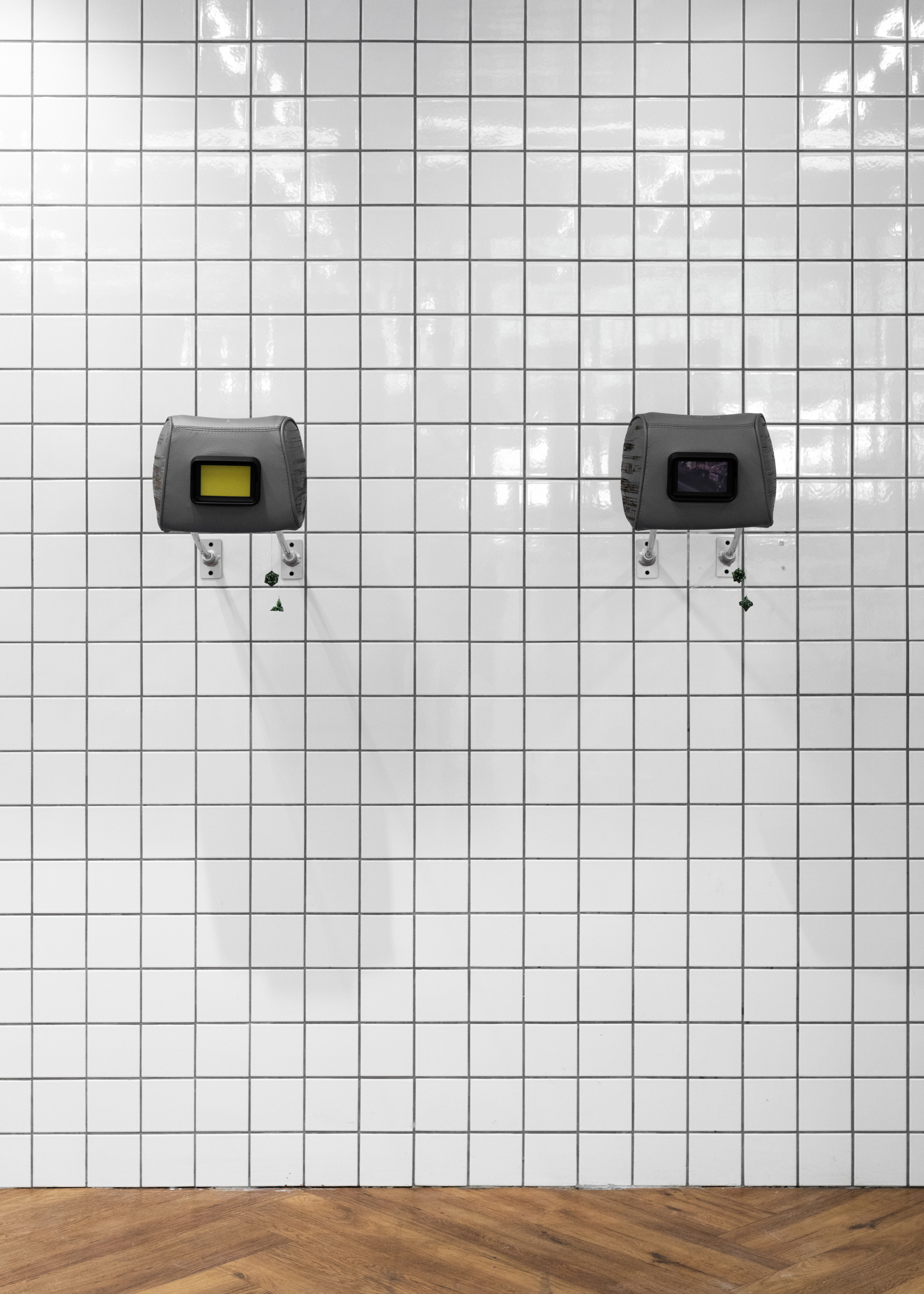 Conor Ackhurst
'Restless' (2023)
Grey leather, foam, laser etchings, steel, aluminium, resin, 4″ e-ink 7 colour display, raspberry pi, silver chain
H 36cm x W 25cm x D 43cm
Not for sale
Solanne Bernard
'Exonip' (2023)
Glazed ceramic, sand
Size variable
Please enquire for prices
Solanne Bernard
'Soothed' (2021)
Ceramic , silicone
20 x 33 x 21 cm
Please enquire for prices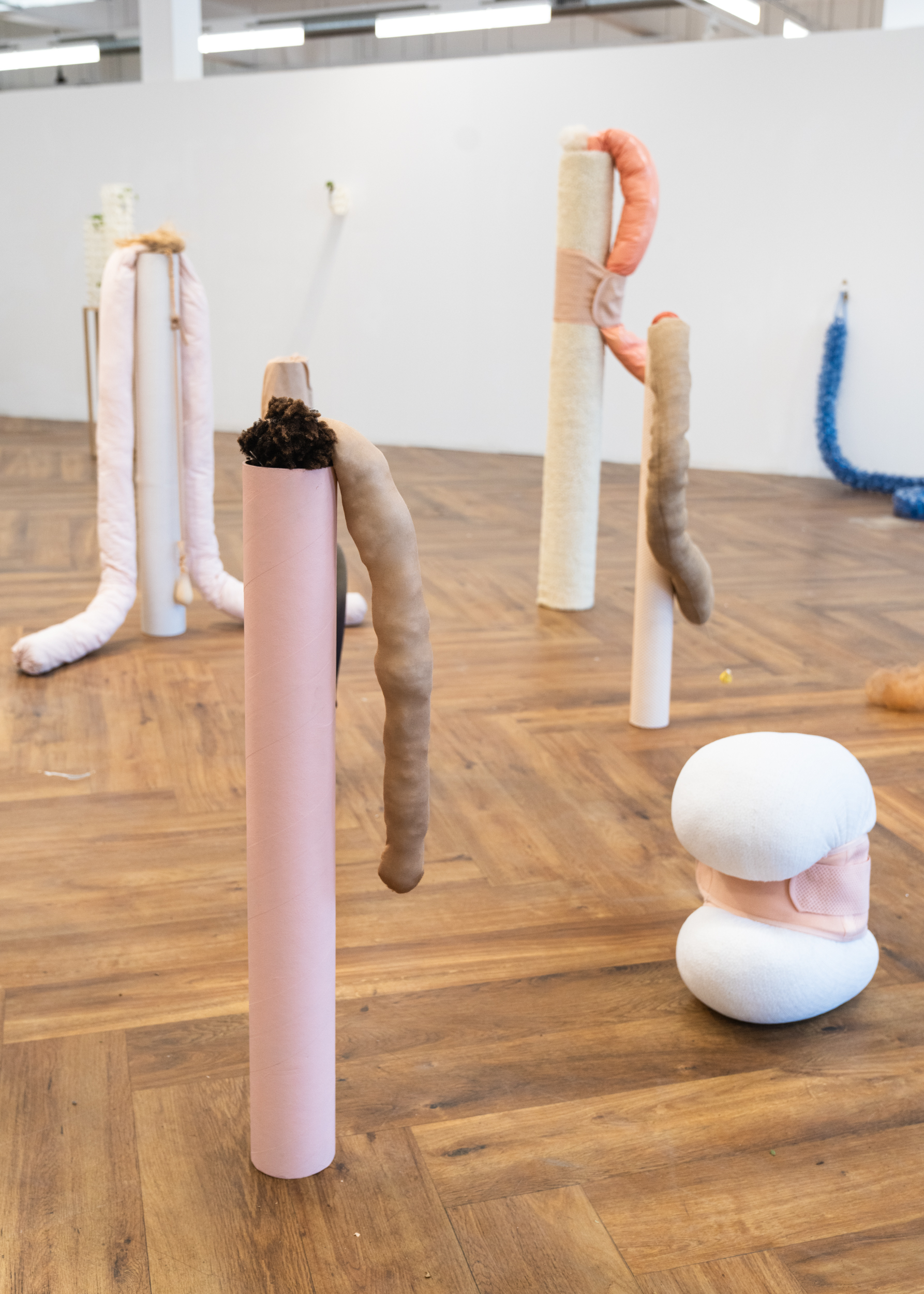 Ingrid Berthon-Moine
'Thingy #1 – #9' (2019)
Elasticated belt, polystyrene beads, stocking net, cardboard, fabric, foam, string, tights, latex, clear PVC, plaster, fake hair, fake sheepskin, fishnet, hessian fabric, tea bag, papier mâché, bodywash net, filling
#1 – 50 cm x 38 cm x 25 cm
#2 – 95 cm x 20 cm
#3 – 165 cm x 70 cm
#4 – 140 cm x 35 cm
#5 – 130 cm x 90 cm
#6 – 160 cm x 45 cm
#7 – 109 cm x 60 cm
#8 – Variable
#9 – 100 cm x 30 cm
Please enquire for prices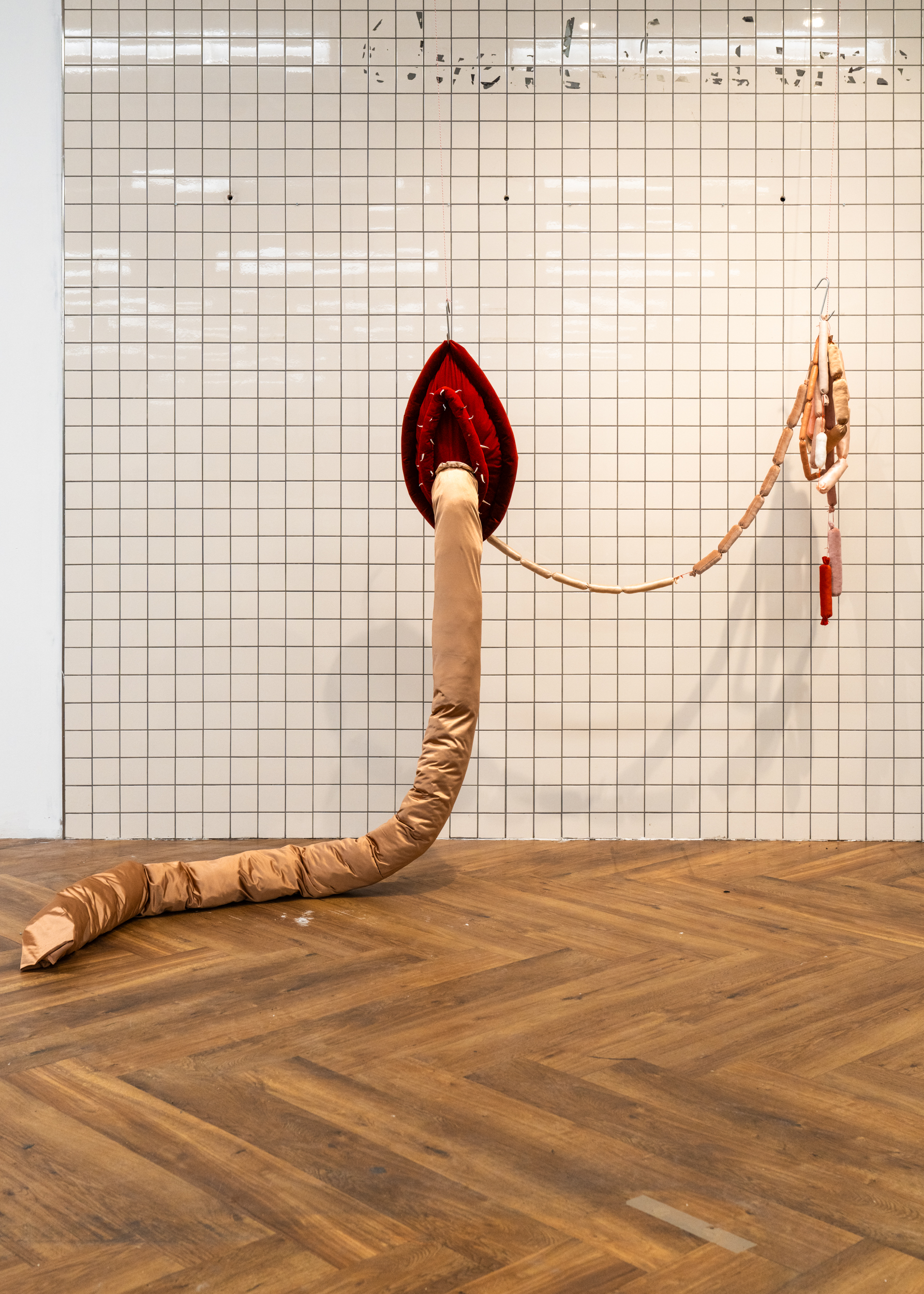 Ingrid Berthon-Moine
'Sausage Making' (2023)
Fabric, metal claws, cotton, string, metal hooks
Size variable
Please enquire for prices
Camilla Bliss
'Skewered Frog' (2021)
Bronze
20.5 x 5.5 x 3.5cm
SOLD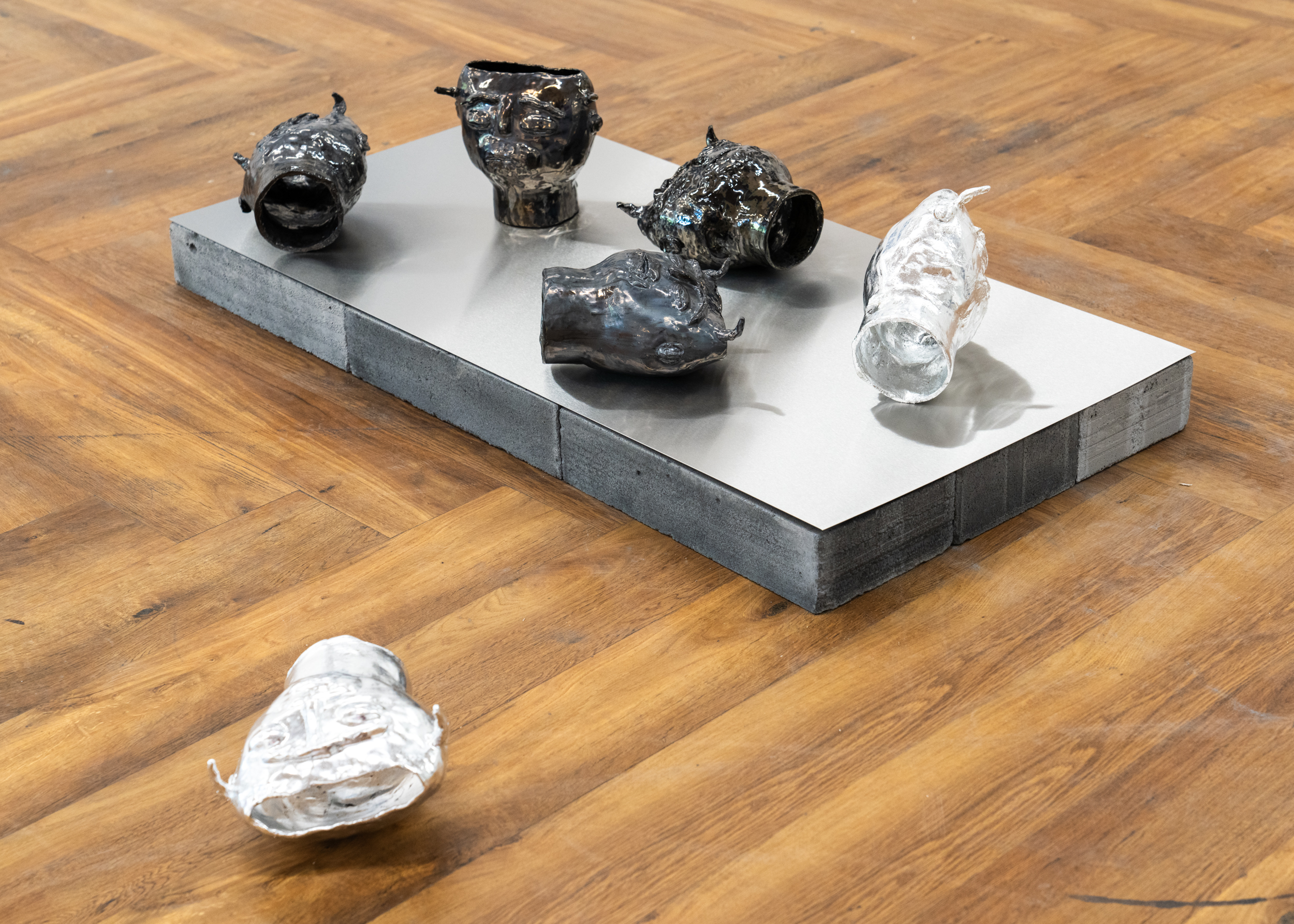 Camilla Bliss
'Serpha' (2023)
Glazed ceramic and aluminium
22 x 24 x 16cm each
(64 x 132 x 10cm Plinth)
Please enquire for prices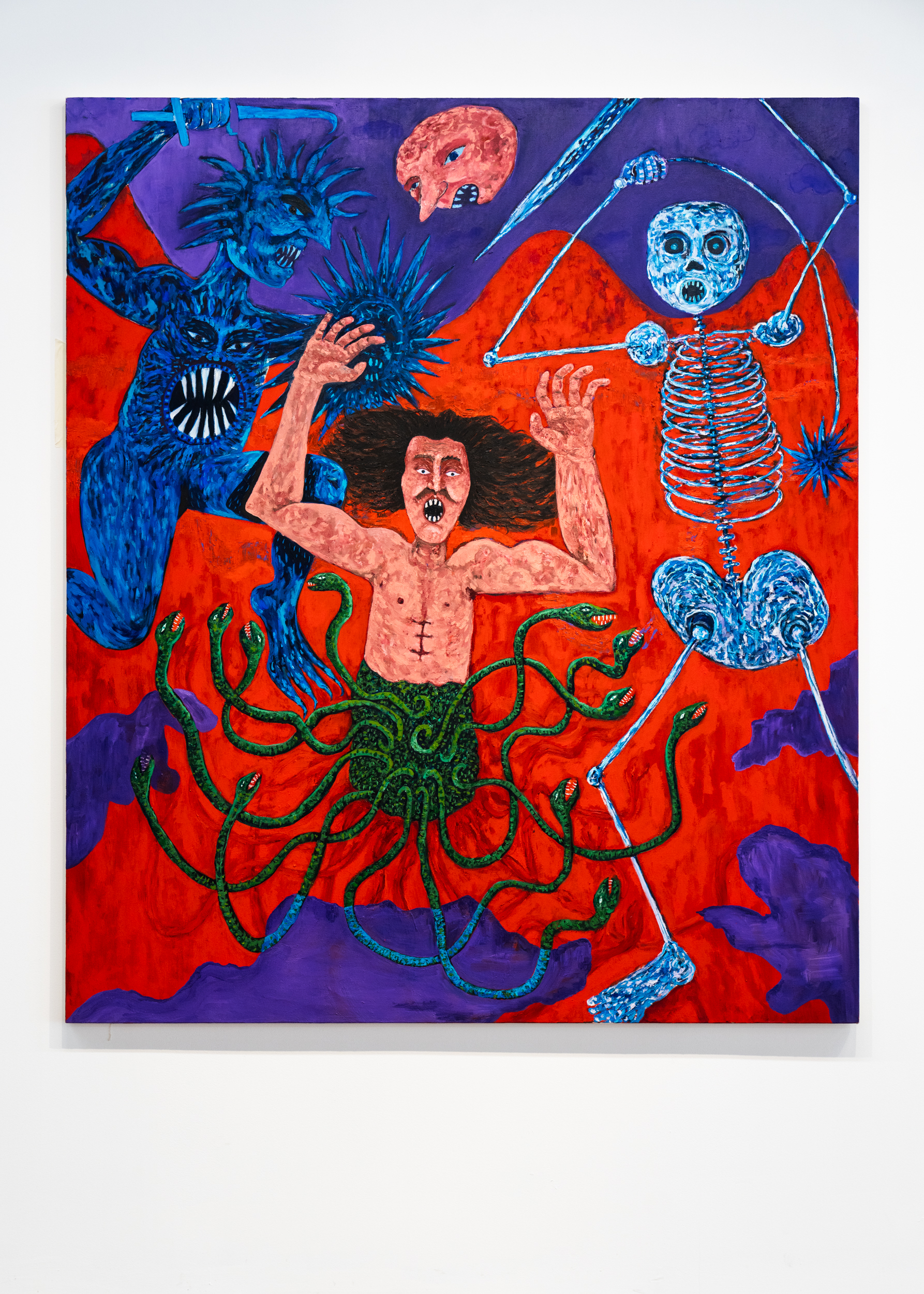 Mark Conolly
'Satan, Sin and Death' (2022)
Oil on canvas
210 x 180cm
Please enquire for prices
Mark Conolly
'Lifted Off Into The Night' (2023)
Oil and collage on canvas
210 x 180cm
Please enquire for prices
John Costi
'Bapou's Bubbles (FLAT OUT MARK 3)' (2023)
Mixed media, found objects
Size variable
Please enquire for prices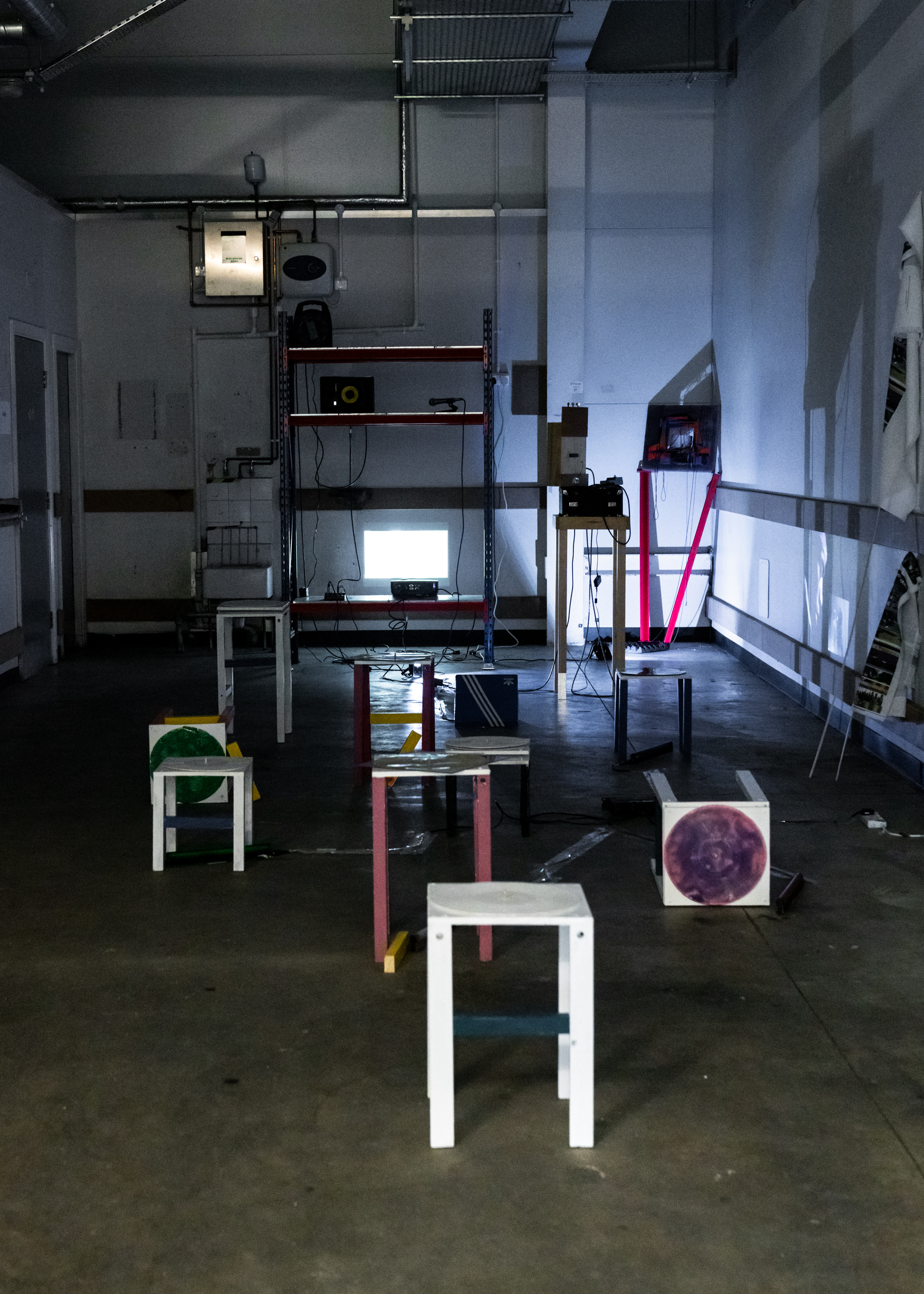 Bill Daggs & Shepherd Manyika
'Feedback Loop' (2023)
Mixed media, record player, feedback loop, mics – sound installation made from old musical instruments, performance
Not For Sale
Charlotte Dawson
'Square Stitch' (2022)
Water Safe PVC Tubing
600 cm x 10 cm x 10 cm
Not For Sale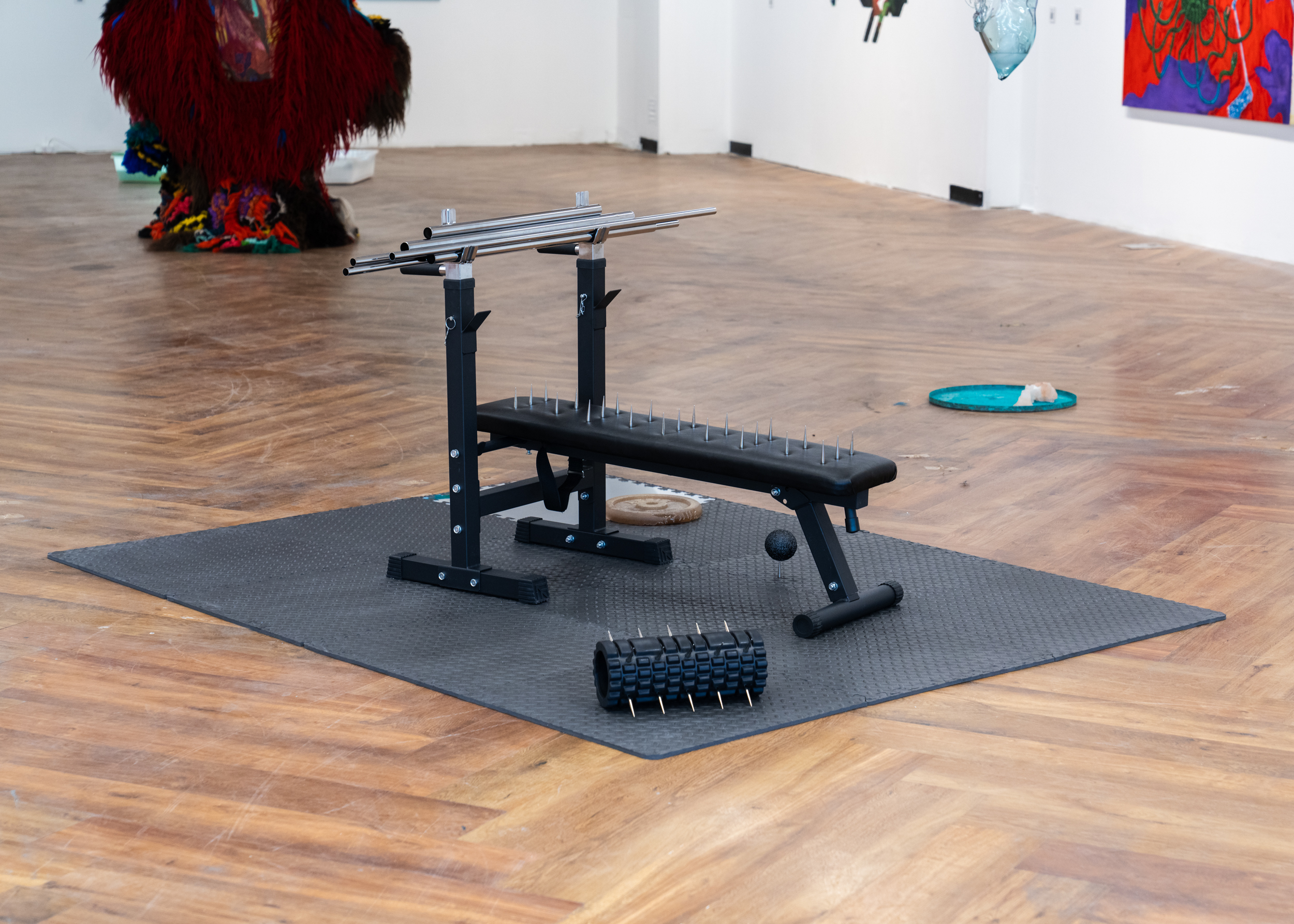 Marc-Aurèle Debut
'The Plight of Masculinity' (2023)
'How Much Do You Bench?' (2023)
'SISSY ( 10kg )' (2023)
'Deep massage I' (2023)
'Deep massage II' (2023)
Bench press, garment rack rail tubes, textile, cone spikes, upholstery foam, chocolate whey protein powder, fine oatmeal, epoxy resin. foam roller, cone spikes, styrofoam ball, bleach, black spray paint, cone spike, gym floor mats, acrylic mirror
Sizes variable
Please enquire for prices
Jo Dennis
'Liar Liar' (2022-23)
Oil, acrylic and spray paint on military surplus tent fabric, steel
220 cm x 120 cm x 60 cm
Please enquire for prices
Evangelia Dimitrakopoulou
'Tanning Eyes' (2023)
Epoxy resin, LED lamps, wood, coconut-scented tanning oil
144 cm x 130 cm x 156 cm
Please enquire for prices
Emmely Elgersma
'Big Boy Lamp' (2023)
Cardboard Wood, Paper Mache, Acrylic, Varnish
120 x 40 x 40 cm
Please enquire for prices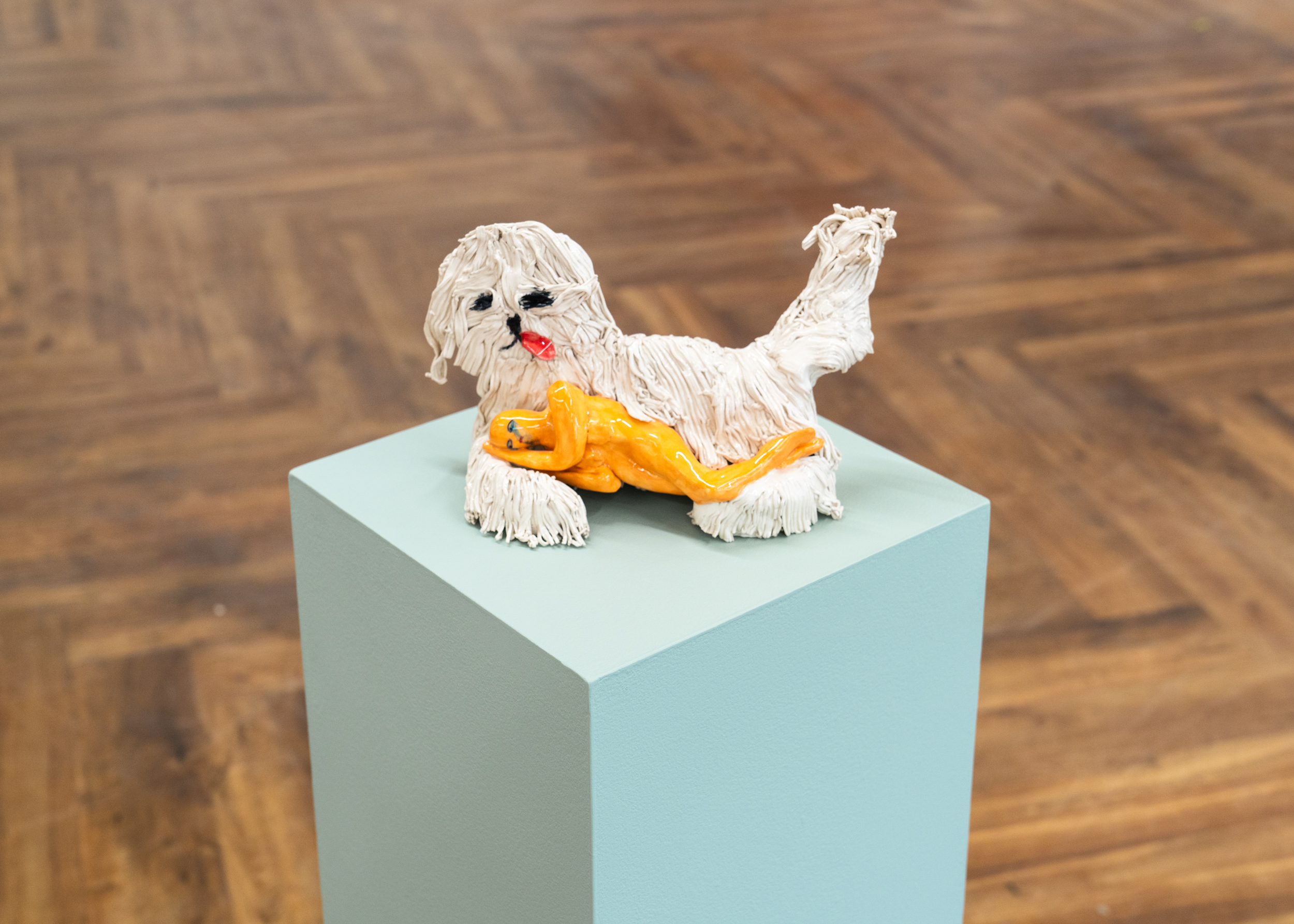 Sally Hackett
'Ghosted' (2020)
Ceramic
35 x 19 x 17 cm
Please enquire for prices
Bart Hajduk
'Ogród Nocny (Nocturnal Garden)' (2021)
Pencil on paper
155 x 75 cm
Please enquire for prices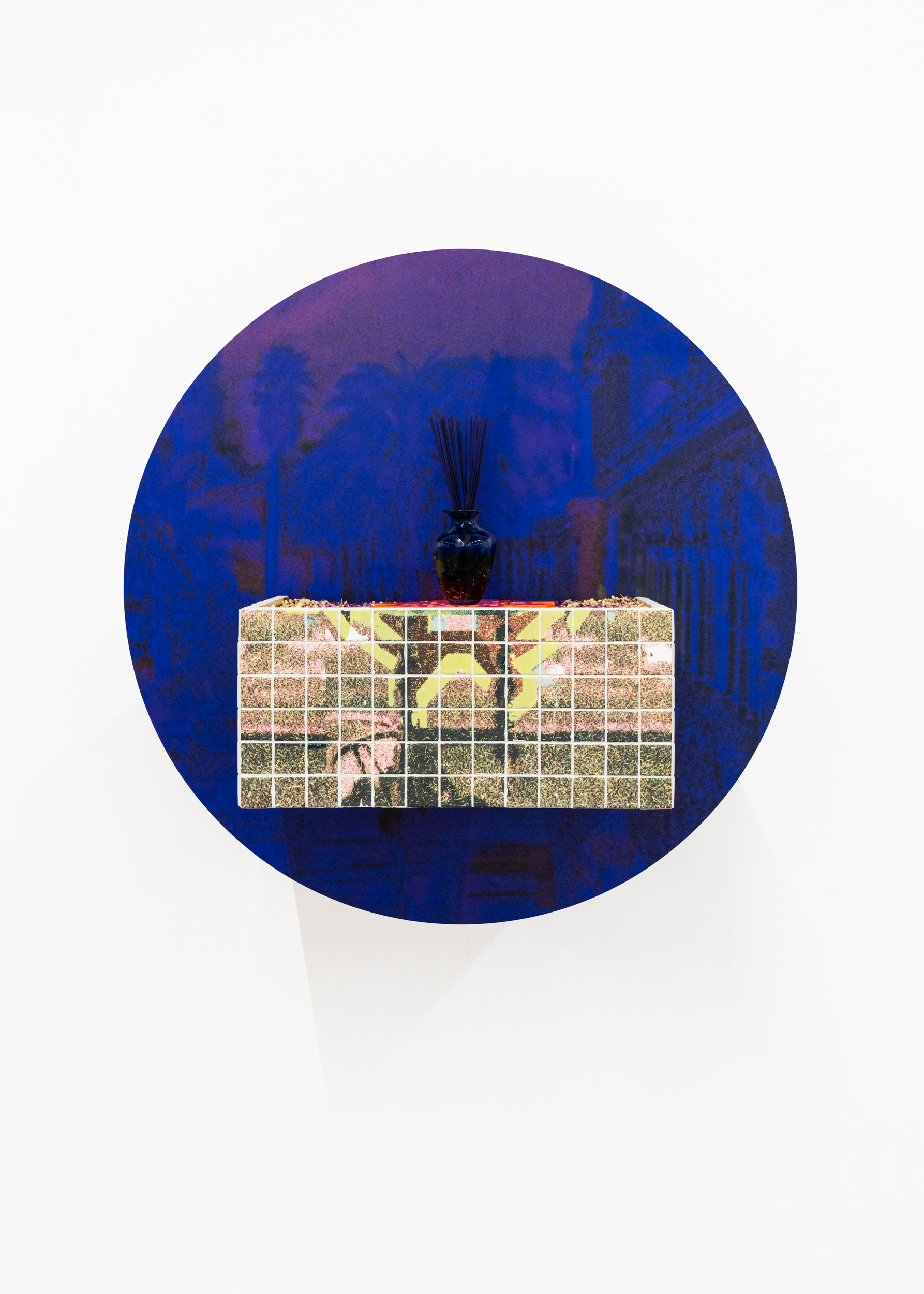 Alia Hamaoui
'Taste The Air Change' (2022)
Decal tiles, vinyl, blown glass, rose and jasmine petals, diffuser oil with olive, almond, jasmine and juniper
120 x 120 x 30 cm
Please enquire for prices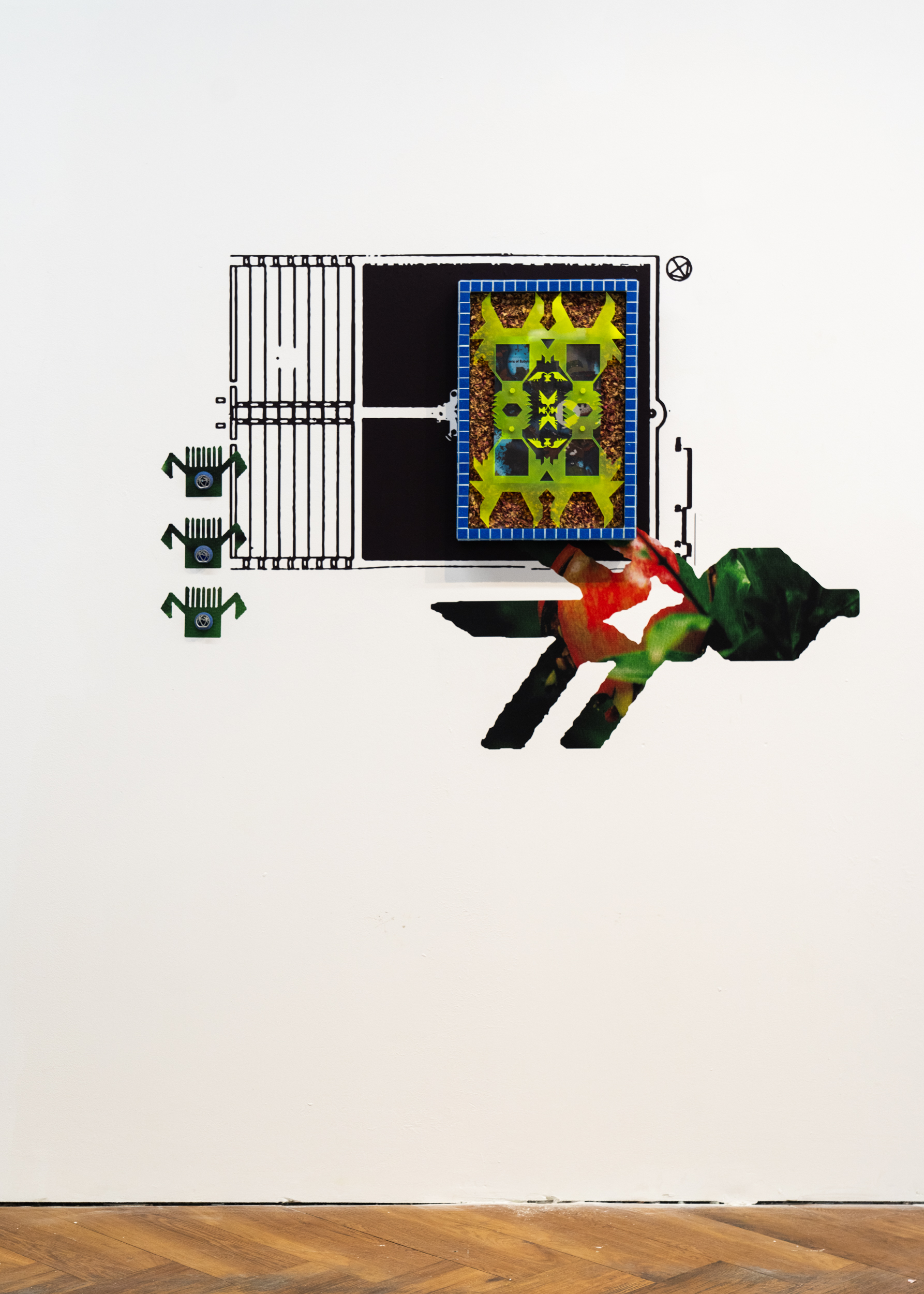 Alia Hamaoui
'Mapping The Panoptic Garden (Scent of Zahr)' (2023)
Mosaic, rose petals, aluminium, Perspex, vinyl, airfreshner
Please enquire for prices
Byzantia Harlow
'Psilocybin (The Sediments of Sentiments)' (2020)
Mixed media
Size variable
Please enquire for prices
Natalia Janula
'We Facilitate' (2023)
Mixed Media
Size variable
Not For Sale
Marie-Louise Jones
'Symbiotic Sculpture #1' (2023)
3D printed rPLA, organic matter, plant
Please enquire for prices
Limited Edition of 50
Marie-Louise Jones
'From the Ground Up (i2)' (2023)
3D printed bioplastic, recycled industrial waste, organic matter, plants, oak frames
Size variable
Please enquire for prices
Katia KESIĆ
'Cosmic Touch' (2023)
Ceramic, stained glass
100 cm x 100cm x 45cm
Please enquire for prices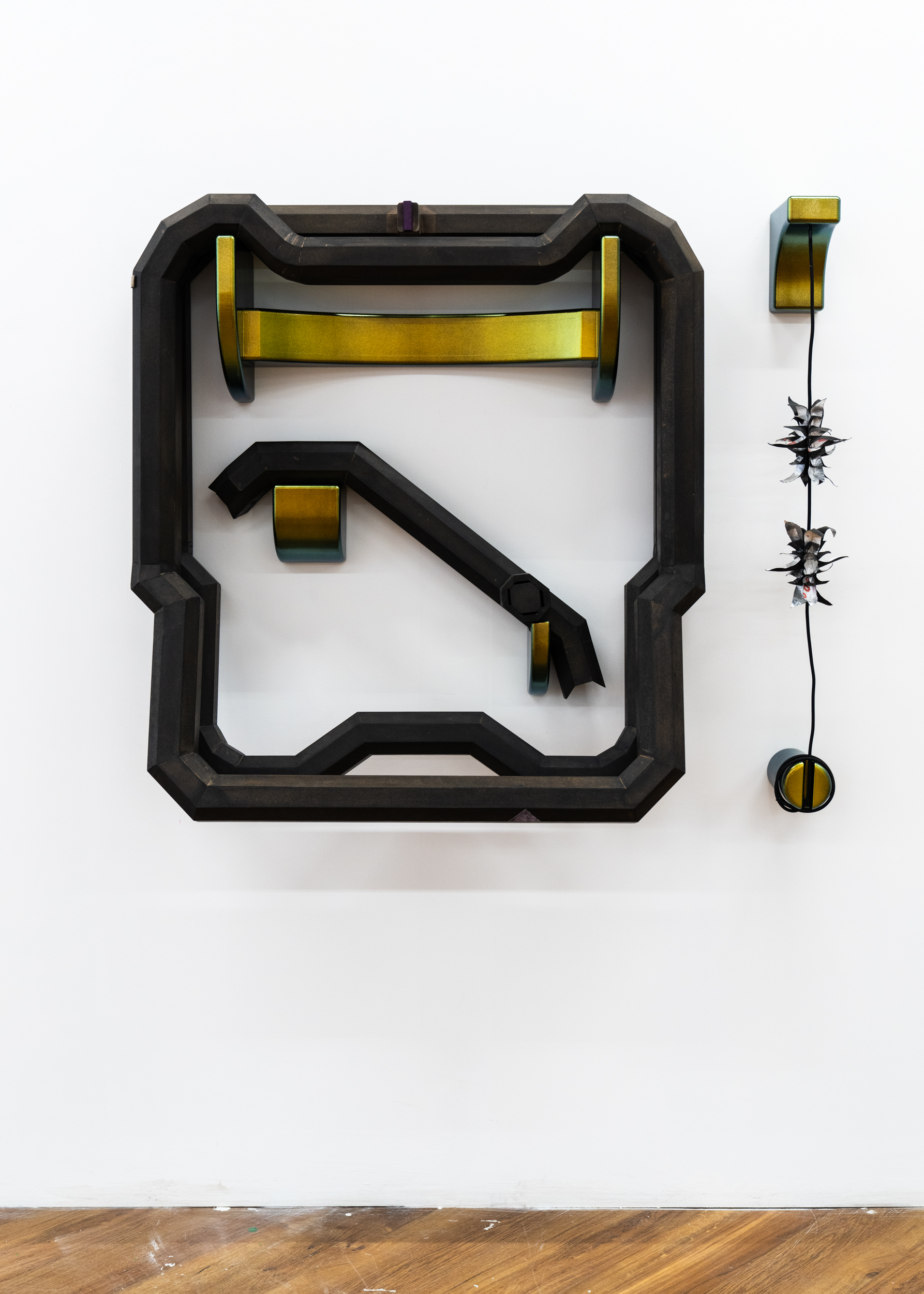 Jon Kipps
'Power Trip' (2020-23)
Dyed MDF, cable, fabric, risograph prints, chameleon paint, MDF, plywood, valchromat
119 x 128 x 31 cm
Please enquire for prices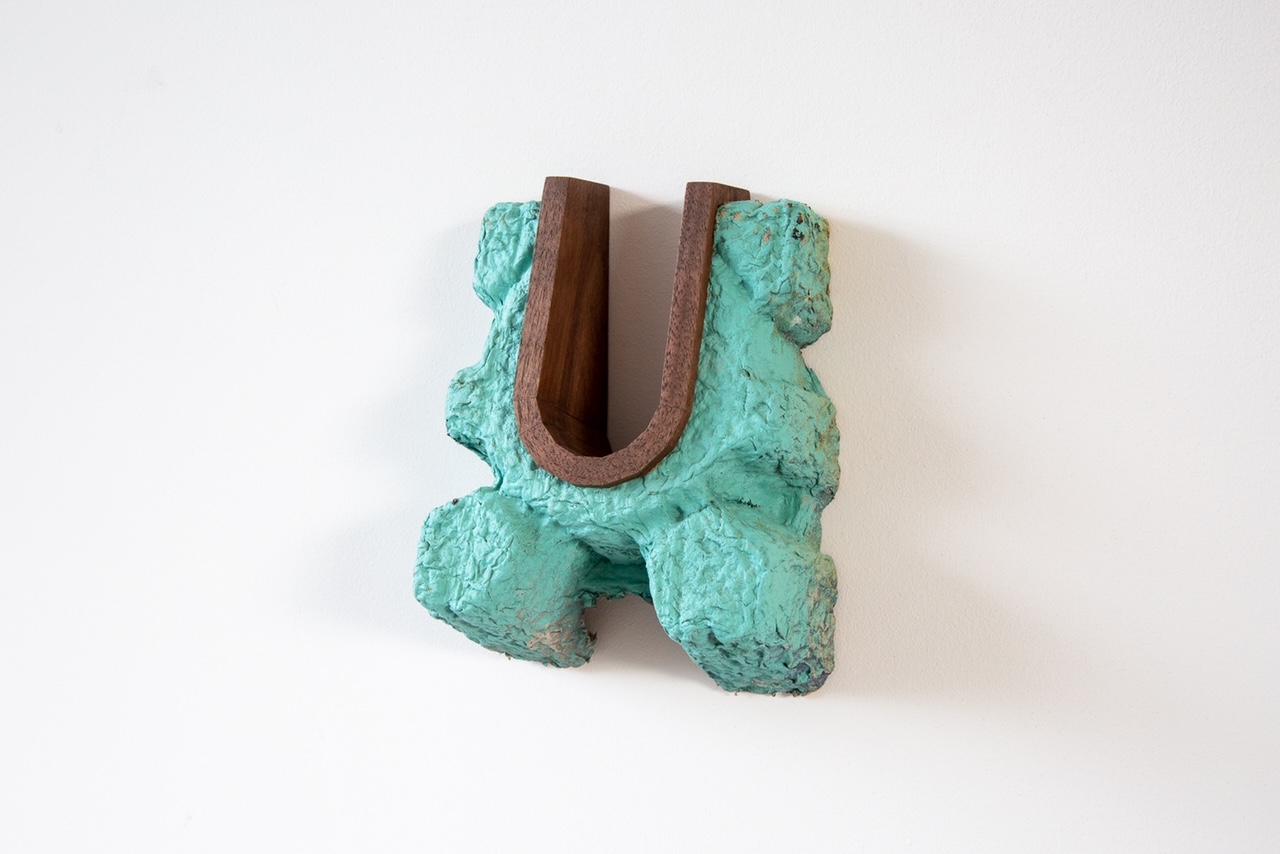 Jon Kipps
'Pharaoh Overlord' (2020)
Walnut, paperpulp, paint
17 x 7 x 13 cm
Please enquire for prices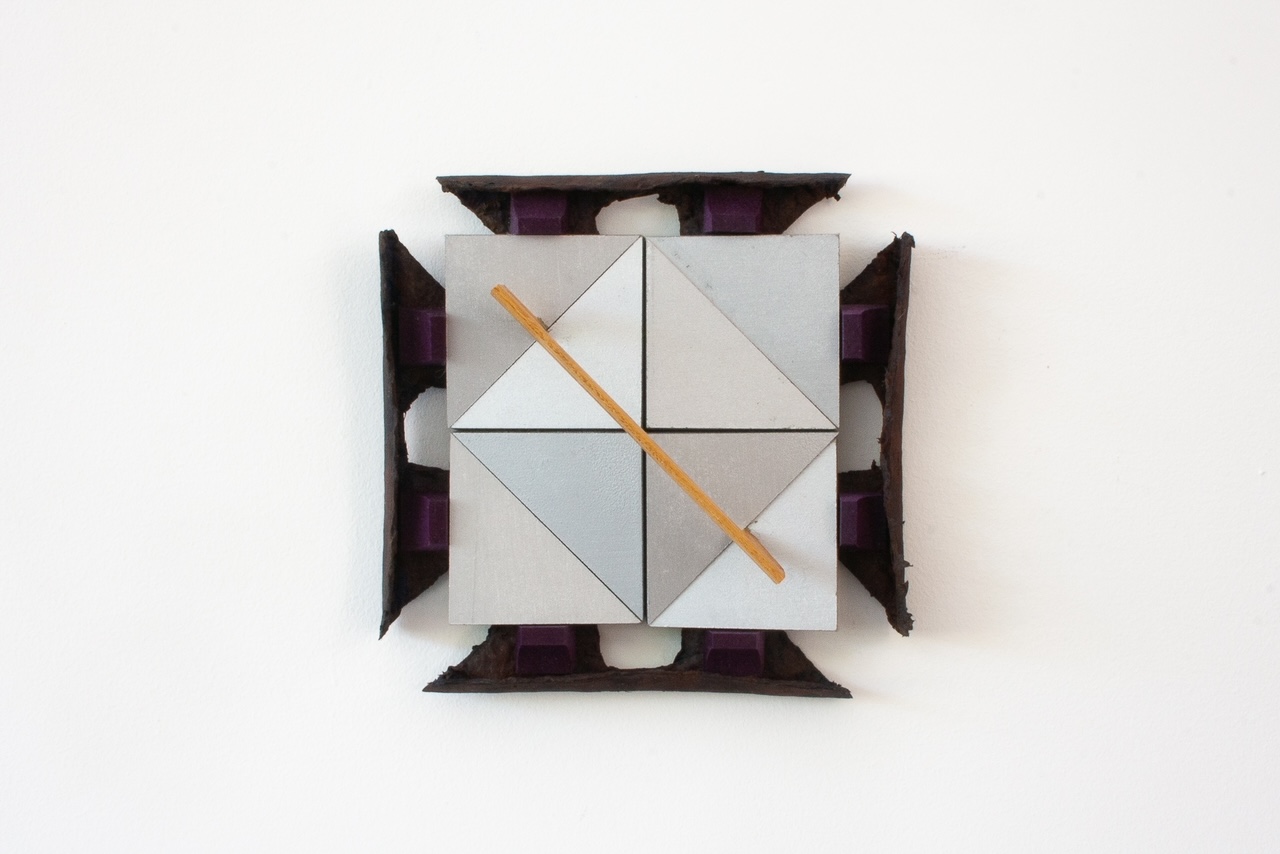 Jon Kipps
'Integrity' (2022)
MR MDF, Ash, spray paint, acrylic paint, card
16 x 16 x 4.3 cm
Please enquire for prices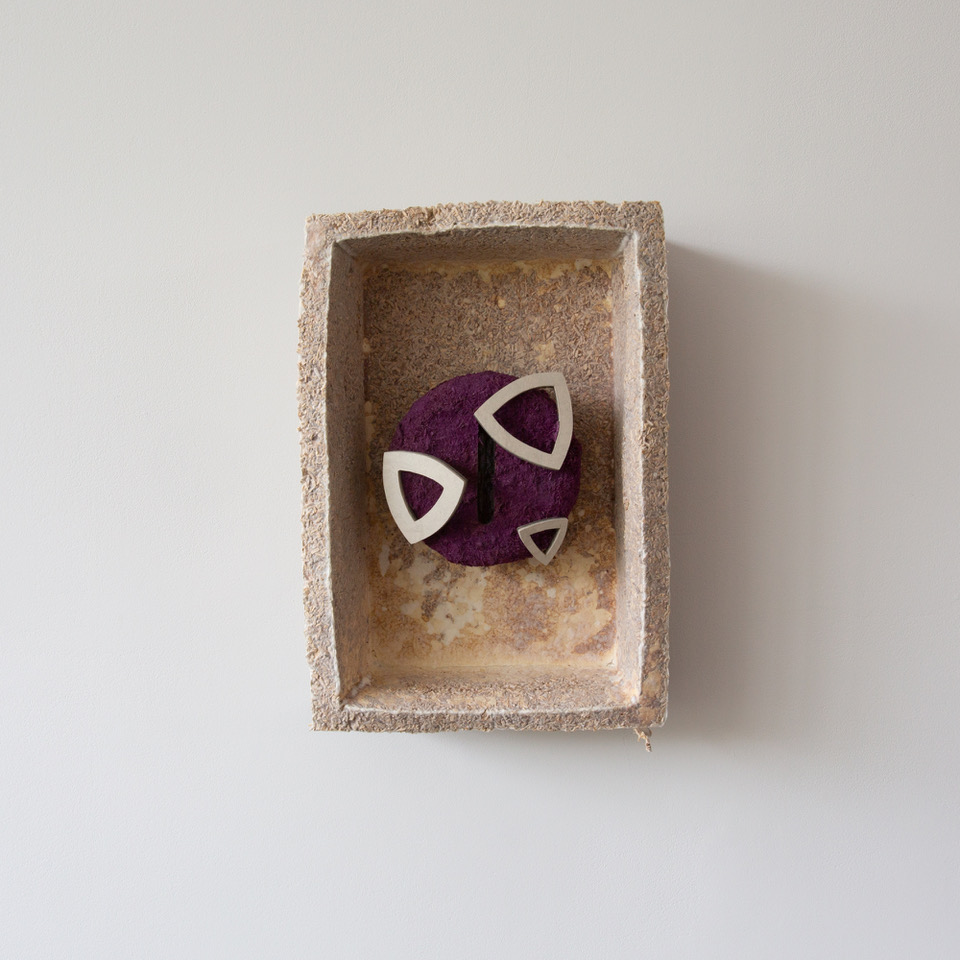 Jon Kipps
'Entombed' (2023)
Valchromat, linoleum, reflective stickers, mycelium, MDF, chameleon paint
31 x 21.5 x 19.5 cm
Please enquire for prices
Alexi Marshall
'THE Unforeseen' (2022)
Glass and grout on wood
59 x 84 cm
Please enquire for prices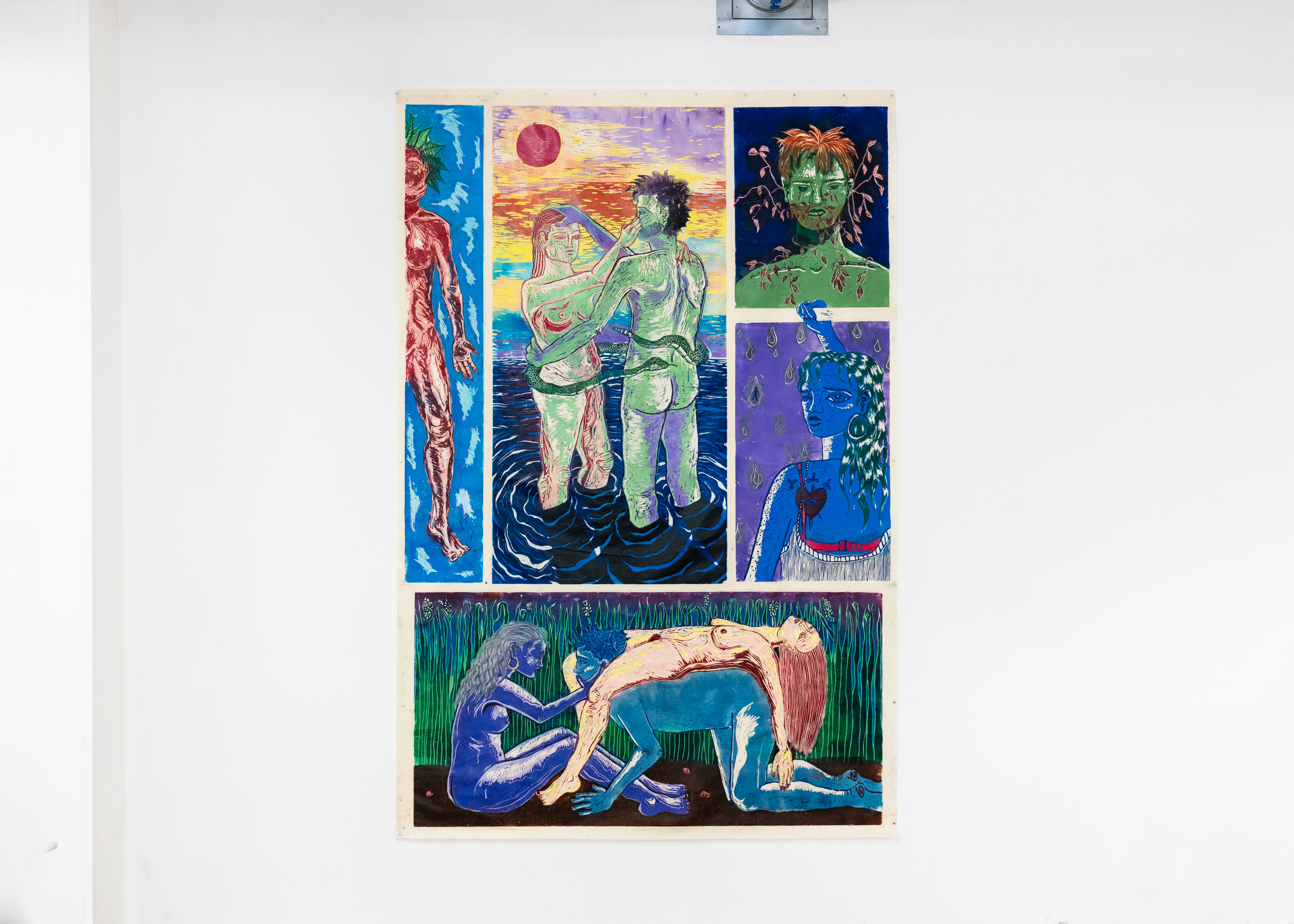 Alexi Marshall
'Borderline Love' (2020)
Hand Printed linocut, ink, japanese paper
289 x 193 cm
Please enquire for prices
Alexi Marshall
'Bloodsport' (2021)
Hand printed linocut, ink, japanese paper
100 x 100 cm
Please enquire for prices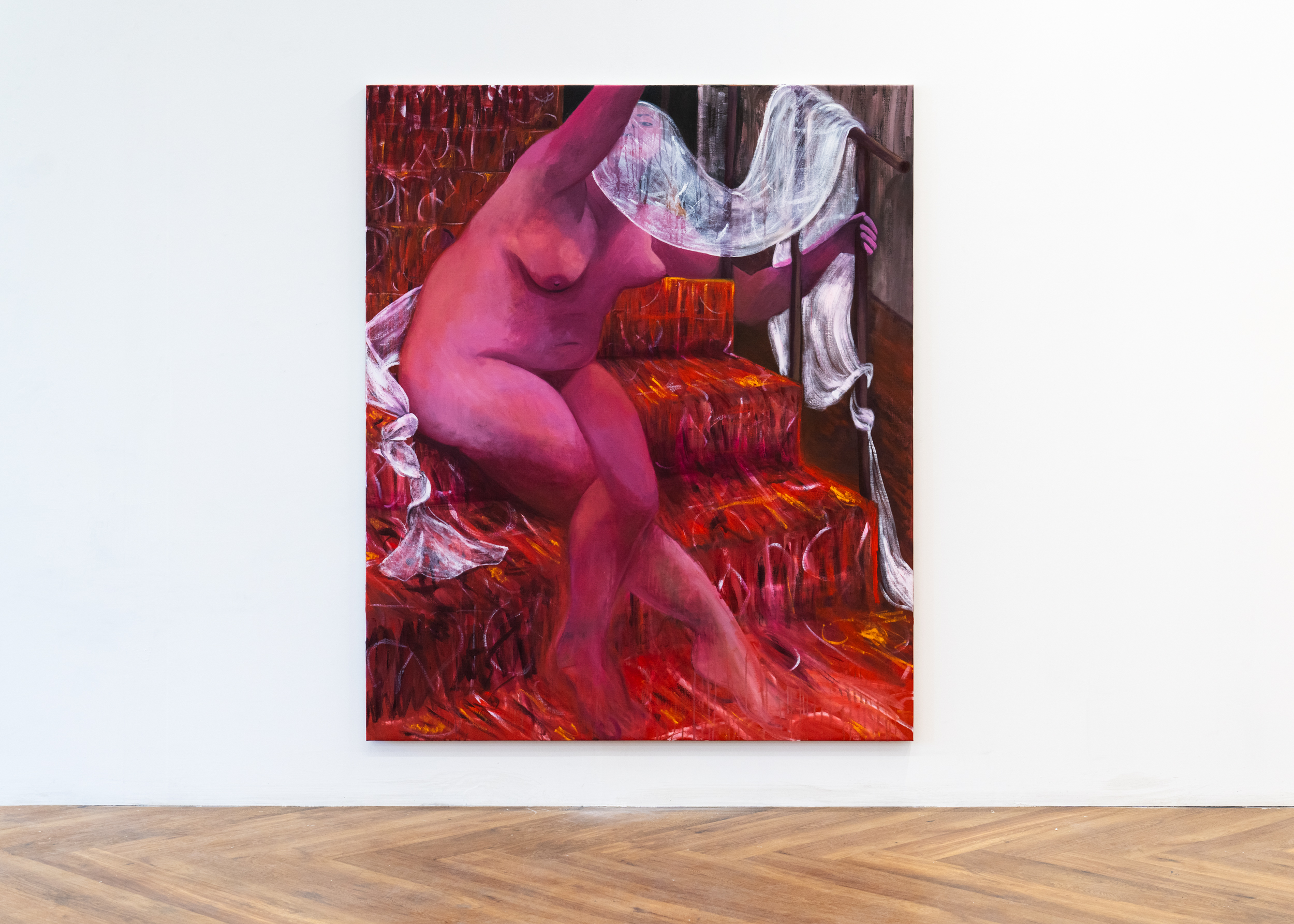 Lindsey Jean McLean
'Stairwell' (2023)
Oil on linen
150 x 180cm
Please enquire for prices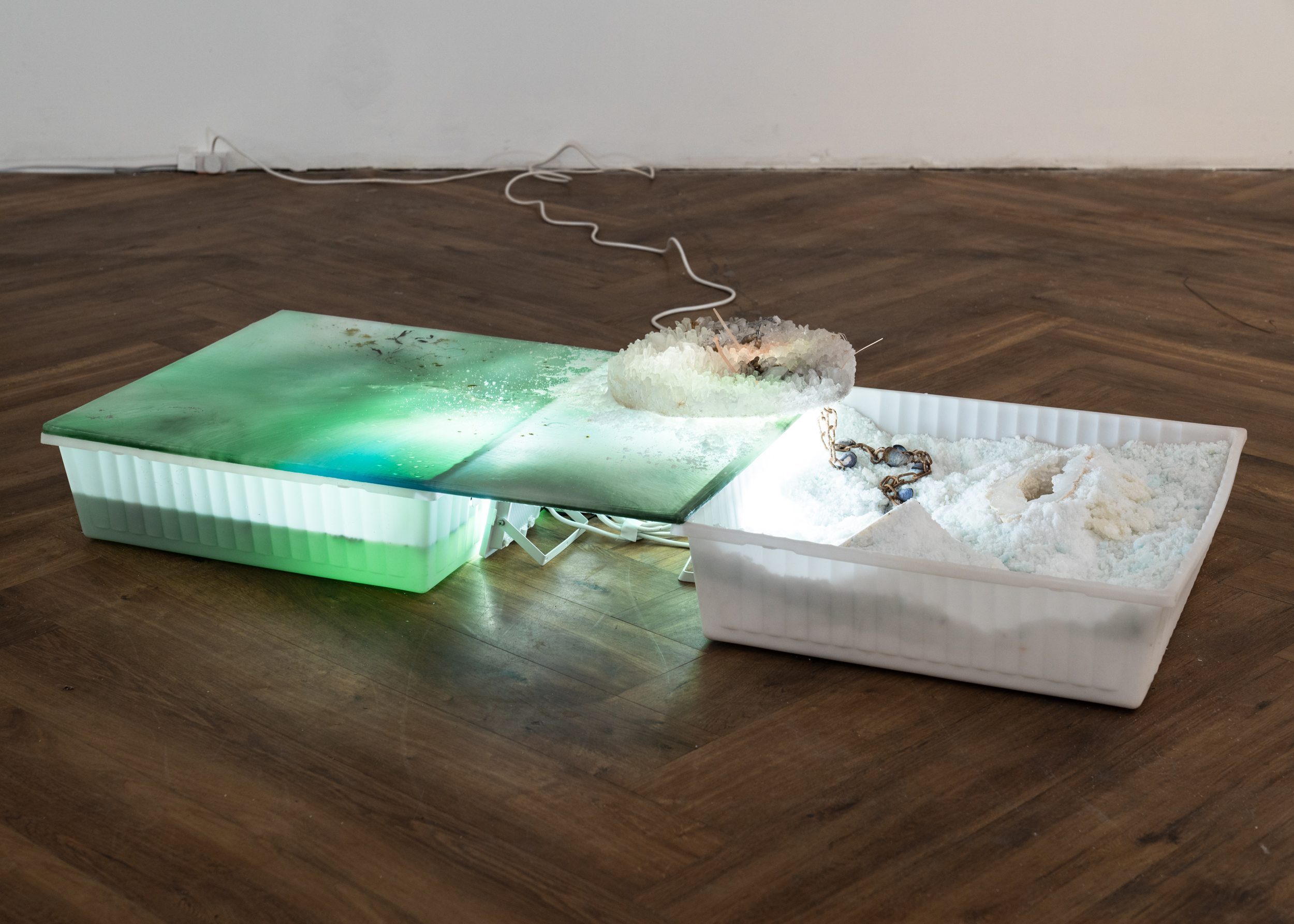 Sophie Mei
'I opened my mouth in the sea to ingest the salt until it crystalised on the calcified edges of my bones making my body of water its temporary host' (2023)
Salt, bio-resin, algae, pampas grass, willow root, sea moss, bladderwrack, stainless steel, mussel shells, cable ties, geode, paracetamol, duloxetine, polyethylene, basil seeds, aluminium, PVC, water pump, LEDs
28 x 165 x 70 cm
Please enquire for prices
Maria Positano
'Parthenope' (2023)
Up cycled and dyed fabrics, putty clay, foam clay, restoration powders, recycled cardboard, paper pulp, paper clay
500 x 100 x 100 cm
Not For Sale
Anna Reading
'Mussel Reprisal' (2023)
Installation comprising: roofing felt, nassa shells, limpet shells, oyster shell grit, volcanic sand, sea breeze scented oil, augeo oil, heras fences, stainless steel hose clips, Jesmonite, metal mesh, pewter, cement breeze blocks, petrobond oil sand, tile backing board
Size various
Please enquire for prices
Ally Rosenberg
'Fleshmonger' (2023)
Ceramic tiles, marble, Jesmonite, paint, OSB board
Size variable
Please enquire for prices
Hannah Rowan
'Carrier (Pond)' (2023)
Lost-wax cast iron, hand blown glass, pond water, aquatic plants, ceramic pebble, steel
130 x 40 x 40cm
Please enquire for prices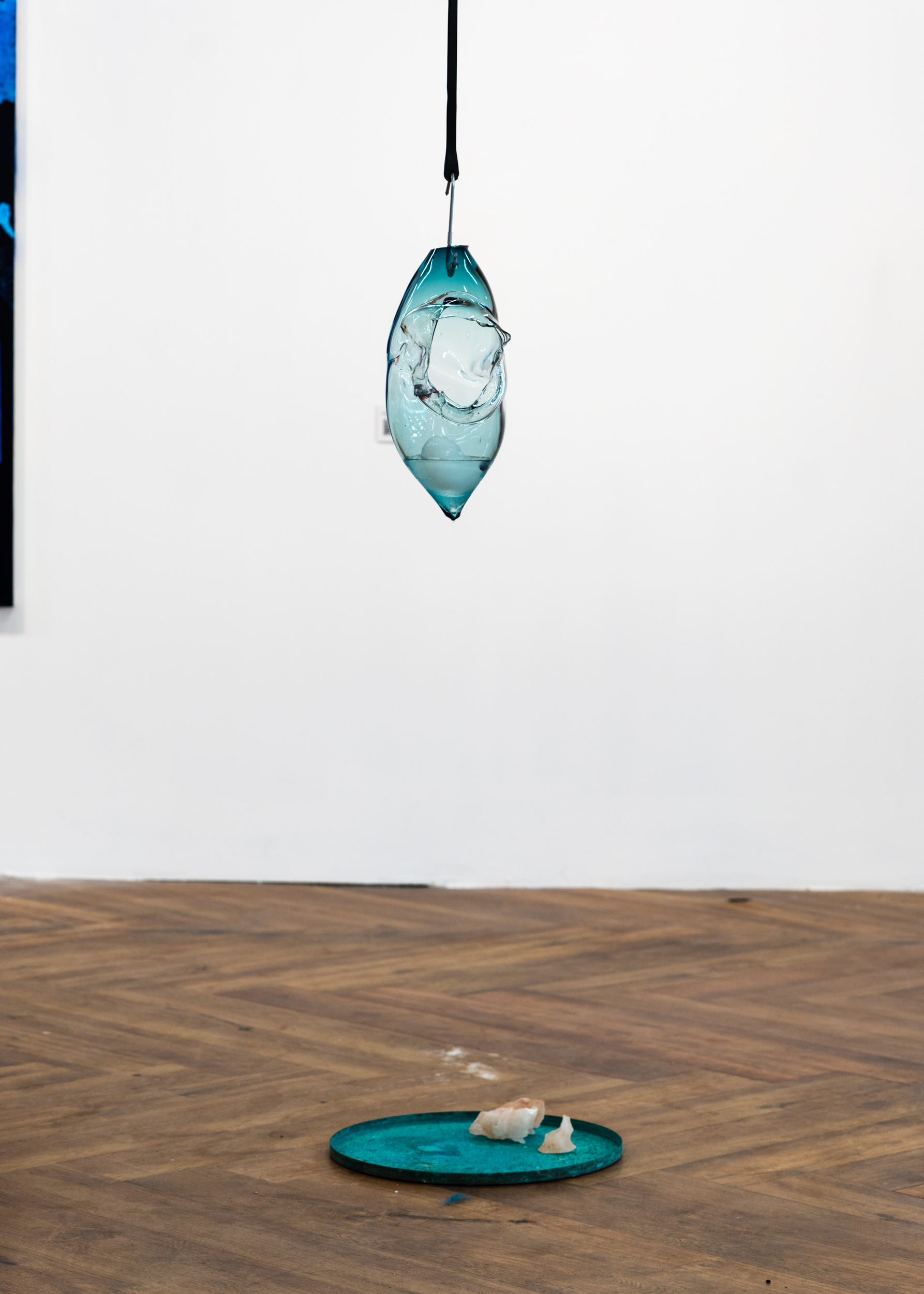 Hannah Rowan
'Flowing as Frozen I' (2020)
Hand blown glass, ice, steel hooks, rubber strap, bolt, hand spun copper, salt crystals
455 x 255 x 200 cm
Please enquire for prices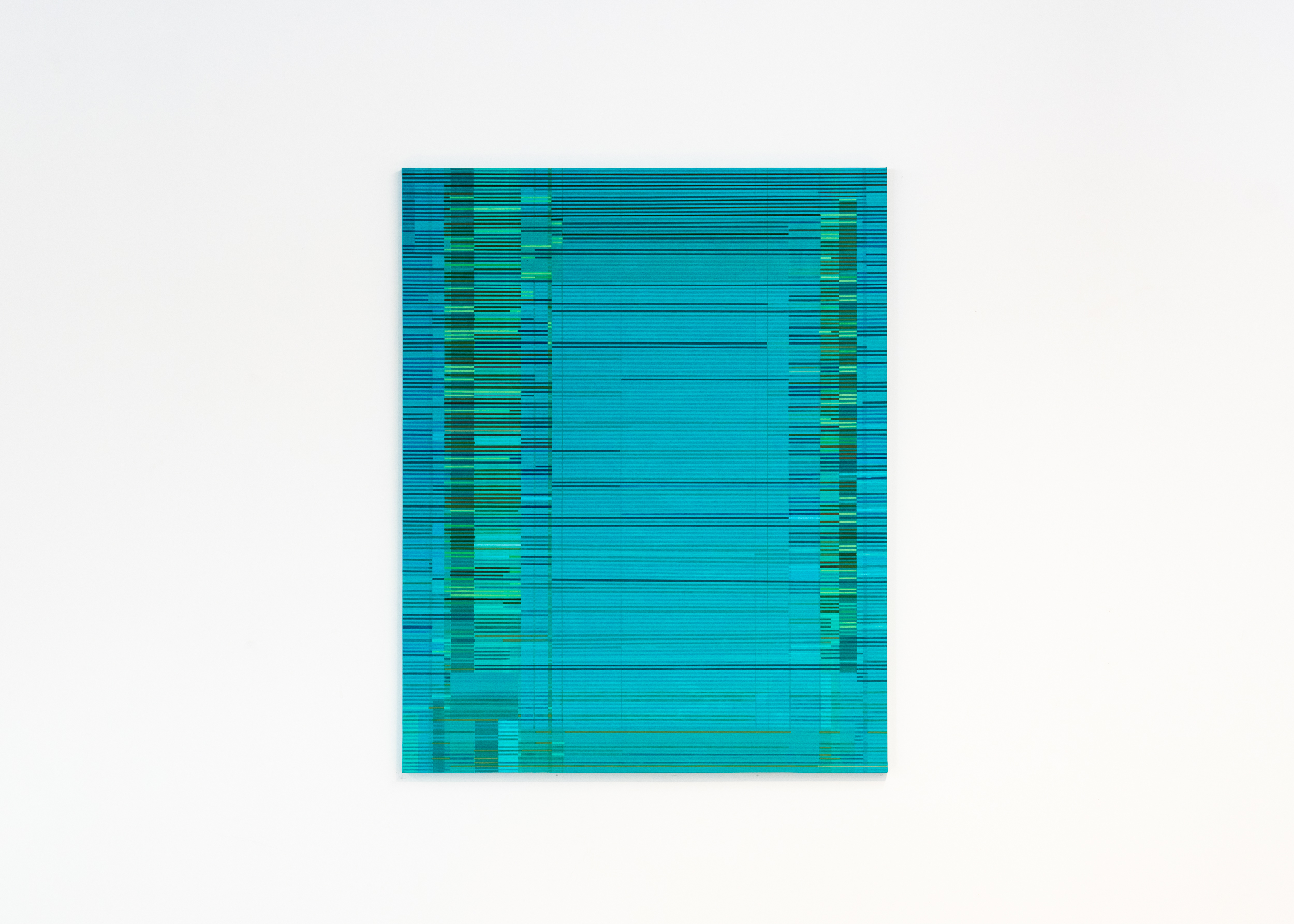 Sam Taylor
'Scripted Sowing in Fields of Firmware' (2023)
Synthetic polymer on canvas
152 x 122 x 3.5 cm
Please enquire for prices
Melania Toma
'Radici' (2023)
Wool, oil paint, charcoal on jute
200 x 140 cm
Please enquire for prices
Melania Toma
'Corpo Cicatrice' (2023)
Wool, silk, engraved sheep skin, oil paint on canvas
230 x 150 x 150 cm
Please enquire for prices
Andrea V. Wright
'On Demand – How Much is Enough? II' (2023)
Steel, Cotton, Latex, Fabric Waste, Plywood, Castors
192 x 82 x 50 cm
Please enquire for prices
Andrea V. Wright
'On Demand – How Much is Enough? I' (2023)
Steel, Cotton, Latex, Fabric Waste, Plastic, Plywood, Pins, Clips, Castors
192 x 82 x 50 cm
Please enquire for prices