"Behold" – a group show about touch, curated by Sasha Galitzine with Graham Little
BEHOLD – a show about touch
Hypha Studios, 56-60 Conduit St, London W1S 2YZ
(UN)PRIVATE VIEW/FEEL Wednesday 22nd February 6-9pm
OPEN:
Thursday 23rd February — 16th March 2023
Tuesdays – Sundays 11- 6pm or by appointment.
Free multi-sensory tours daily 1-2pm & 5.30-6.30pm. (If you require additional assistance or would like a private tour please email [email protected])
EVENTS:
Sunday 5th March 2-4pm
A multi-sensory song-writing workshop with Katy Pinke book here (online)
Tuesday 7th March 6-7.30pm
Genevieve Reeves' physical embodiment of Behold, rsvp here.
Wednesday 8th March:
5.30-7pm: Dreamwork exploratory waking dreams with Allegra Shorto book for a space here.
& 7.30-9pm: Tamara Colchester & Plant Listening, a wild tea workshop, book for £15 here 
Thursday 9th March
Listening to Artworks, an evening of Echolocation with Harsha Balasubramania & Hermione Spriggs & Echo Choir, book free here.
Saturday 11th March 6-7.30
Make your own products out of plants with Molly Moon book for £15 here.
Tuesday 14th March 6-9pm
A performance evening with Nicole Clif, Louise Ashcroft, Mosquito Farm & Amelia Barratt, rsvp free here.
Wednesday 15th March 7-8pm
Perception, Dr Anthony Fry in conversation with Richard Wentworth, rsvp free here.
Thursday 16th March 11-8pm
Last chance to Behold the show!
PARTICIPATING ARTISTS:
Conor Ackhurst, Kai Althoff, Jorella Andrews, Louise Ashcroft, Amelia Barratt, Gareth Cadwallader, Nicole Clif, Mosquito Farm, Keith Farquhar, Allegra Fitzherbert, Kira Freije, Andy Holden, Alastair Kwan, Graham Little, Sara Marinangeli, Rebecca Moss, Paul Noble, Nicholas Pope, Hans Rosenström, Hermione Spriggs, Georgina Starr, Jack Warne, Richard Wentworth.
Curated by Sasha Galitzine with Graham Little with multi-sensory mediation in collaboration with Harshadha Balasubramanian, Joe Rizzo Naudi, Genevieve Reeves, Ben Street & Kyle Berlin.
FURTHER INFO:
The exhibition is made possible by Hypha Studios and kind support from Regents Street W1 and The Crown Estate. Supported using public funding by the National Lottery through Arts Council England. With thanks to the generous support of Charles Asprey, the Alexander Pigott Wernher Memorial Trust and Lockton Companies LLP, Fine Art Insurance brokers and thanks to Dima's Vodka, a Ukrainian vodka producer.
BEHOLD is an innovative exhibition that draws attention to touch – providing unusual and playful ways of experiencing artworks and reaching beyond the visual to activate our other senses. We wonder if you share our feeling that exhibitions are sometimes a bit distant from your body, closed off, as though in a musty cupboard… BEHOLD counters all that by seeking to address the pleasures and problems of our physical interaction with others and the world. The exhibition is an attempt to engage with the raw actuality of things. Artworks have been chosen and presented with a focus on the sensorial and haptic, on presence and experience. A series of touch-sensitive workshops will run as part of the show. Visitors are invited to become participants in the show, encouraged to behold artworks through a collaborative multi-sensory tour designed by artists, writers and academics, who are either blind, visually impaired or sighted. BEHOLD seeks to help reframe access to art by disrupting the hierarchies of perception and art education, by providing unusual and playful ways of experiencing artworks – beyond the visual and with the effect of heightening our other senses.
"How many artworks have held your attention, spoken to you or touched you?"
"How many dust particles are still attached to the sole of your shoes that weren't there when you entered the space?"
"Do you feel slightly too warm in the clothes that you're wearing?"
"What are you going to hear once you've stepped back onto the pavement?"
BEHOLD seeks to reach anyone who has felt excluded from the arts, existing as an evolving and live inquiry into how we can experience art. A show that will listen and respond to you over the course of the exhibition.
 
*The origin of the word 'exhibition' actually means 'to hold' rather than to show.
Conor Ackhurst
Double Coupler (2021)
Marble 
20 x 30 x 20 cm
Courtesy of the artist
Please enquire for prices
Kai Althoff
Untitled (2010)
Wax crayon & coloured pencil on paper
Card wrapped – 80 x 4 x 93 cm
Loaned from the collection of Charles Asprey
Jorella Andrews
Holdings (2020-23)

3 from a series of 9, air-dried clay

10 x 12 x 0.2 cm
Courtesy of the artist
Please enquire for prices
Louise Ashcroft
Scavenger Coat (2023)
Interactive storytelling coat with pockets containing fragments collected on walks
For instructions see clipboard on wall
Courtesy of the artist
Please enquire for prices
Amelia Barratt
Fly 5 (2021)
Indian Ink on paper
30.5 x 23 cm
Please enquire for prices
Gareth Cadwallader
Starfish (2021-22)

Oil paint on canvas
27 x 23.5 cm
Courtesy of the Artist and Josh Lilley Gallery
Not for sale

Nicole Clif
Rubber in my Mouth  (2022)

A live participatory performance 
To be performed live by Nicole 22nd February 2023 & 14th March 2023 7.00pm -8.00pm
Not for sale
Mosquito Farm
Involuntary Rehearsal Suit (2023)

Red plastic childrens table, laboratory support stands, plastic toy fans, plastic water bottle, extraction vent, ping pong balls, timer switches
Kinetic Sound Sculpture  + Live performance
40 x 60 x 60 cm
Please enquire for prices
Keith Farquhar
Worker (2002)

Pinned cotton wool on found canvas, framed
Card wrapped – 75 x 8 x 111 cm

Loaned from the collection of Charles Asprey
Allegra Fitzherbert
And the Pea (2023)

Soft pastel on primed paper
38 cm x 28 cm
Please enquire for prices
Kira Freije
Submerged, despite some natural resistance, Bobbing, and glug, glug, glug  (2020)

Stainless steel, blown glass, LED light
53 x 43 x 12 cm
Courtesy of the artist and Approach
Please enquire for prices
KIRA FREIJE
Warm fog brazes metallic cheeks  (2022)
Stainless steel, mouth-blown glass, LED light
53 x 43 x 12 cm
Courtesy of the artist and Approach
Please enquire for prices
Andy Holden
Pyramid Piece (2008)
Knitted acrylic yarns over wire frame
30cm x 35cm x 35cm
Not for sale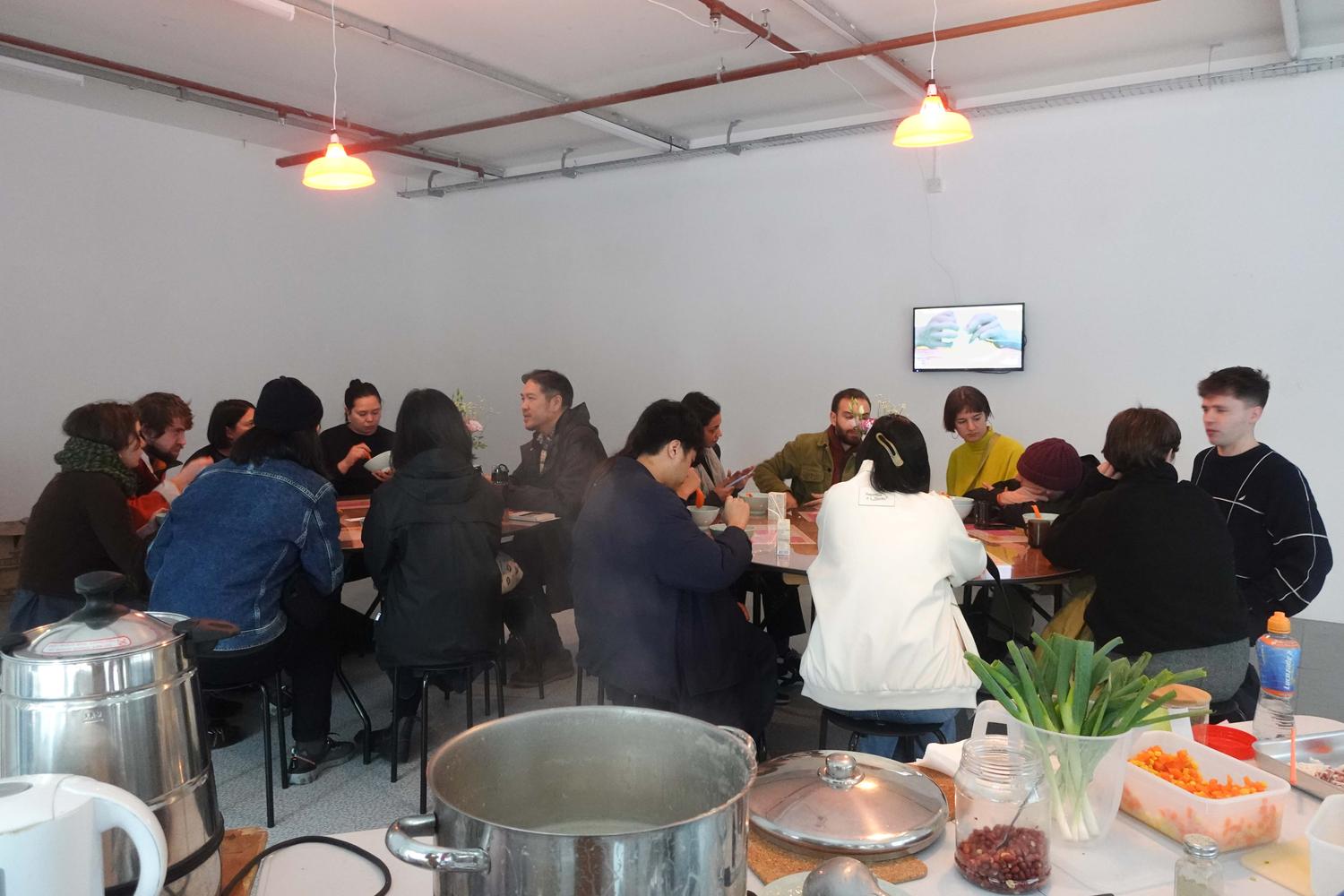 Alastair Kwan
Congree Canteen (2022)

Congee, tables, sculptures, monitor
Graphics and events in collaboration with F.A.T Studio
Please enquire for prices
Graham Little
Squirrel (2022)

Gouache on paper
63.5 x 59.5 cm
Not For Sale
Sara Marinangeli
The Mouth Cut  (2023)
Enlarged photograph

33.5 x 49 inches
Please enquire for prices
Rebecca Moss
Comfort Food  (2021)

Video work, monitor
00:01:25
Please enquire for prices
Paul Noble
The Cleaner (2021)

Pencil on paper
64 x 48cm
Framed
Please enquire for prices
Nicholas Pope
Mr and Mrs Pope Knitted, shrunk and hung (2012)
Felted Mohair
Height 135cm
Courtesy of the Artist and Sunday Painter
Please enquire for prices
Hans Rosenström
Mouth Mapping (2023)
Site specific binaural sound work, installation
Headphones, Curtains, 2 x chairs, light, 2 x mirrors, DMX-dimmer, mediaplayer
Dimensions Variable (in the space 2 x 3m)
Please enquire for prices
Hermione Spriggs
Schticks (2023)

Interactive sound sculpture
Crafted from Sapele wood by Tracey Owen
1ft, 2ft, 3ft, 4ft, 5ft
Please enquire for prices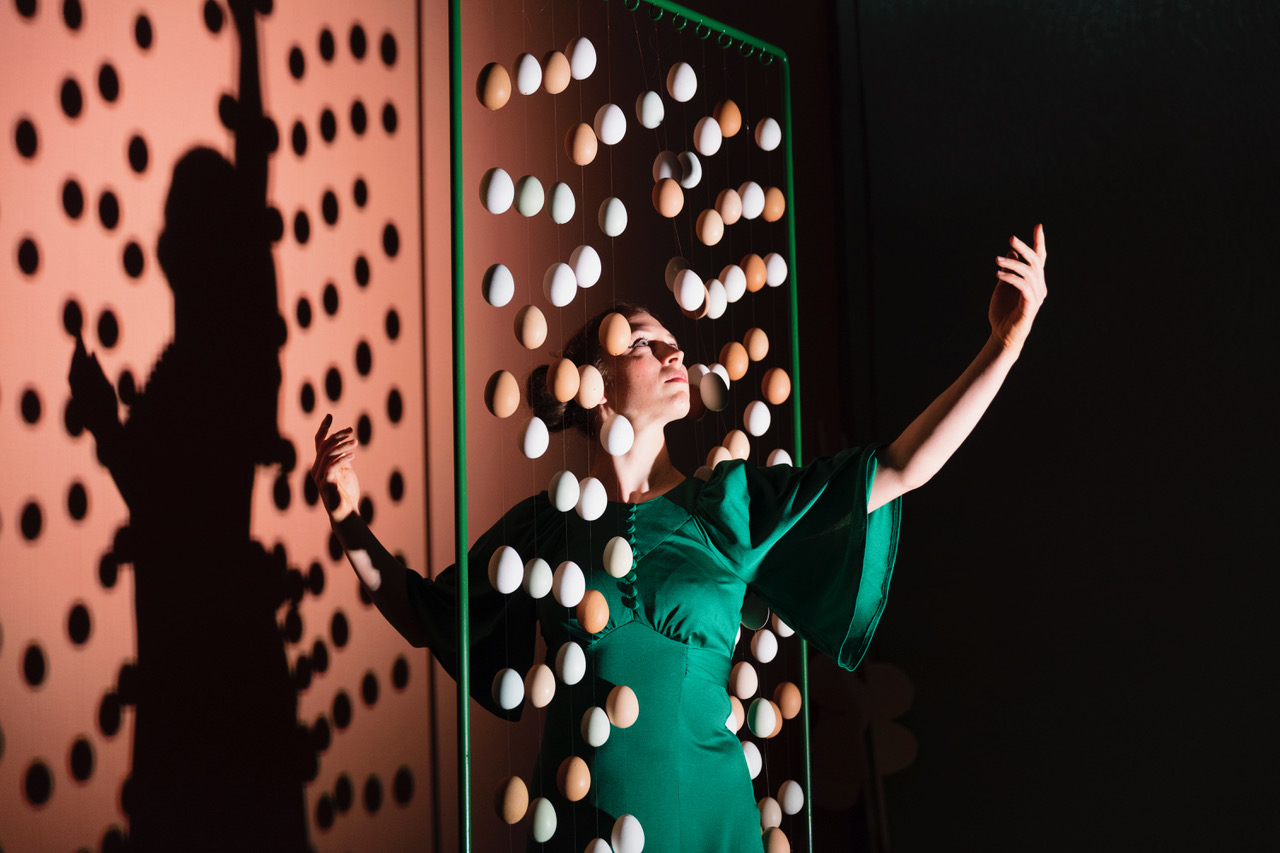 Georgina Starr
Androgynous Egg (2017)

Performance + Installation
152 blown eggs, metal stand 
200cm x 95cm
Courtesy the Artist & Frieze Projects
Image: Lewis Roland
Not for sale
Georgina Starr
Pink Ursula Material (2017)

Turquoise platforms & pink material
120 x 120 cm
Courtesy of the artist
Not for sale
Jack Warne
Limey Cesnda in het Givlin Oorm (2023)

To view Augmented Reality filter log into wifi: 56CONDUIT Password: KbTwJs3N
Painting +  interactive sound piece  
Upholstery Foam, Tile Adhesive, Ultra-violet Flatbed Print, Plywood, Aluminium
194 cm x 157 cm
Please enquire for price
Richard Wentworth
Matter of Fact (2023)

Brush, Bitumen and cigarette
25 x 25 x 25cm
Please enquire for price
OPENING NIGHT 22ND FEBRUARY
Eliza Bonham Carter (pictured), Curator and Director of the RA Schools, and Mark Davy, CEO of Futurecity
Eliza Bonham Carter has been a noteworthy contributor to arts education for over twenty years.  From her early days as a senior lecturer in Fine Art at DeMontfort University in 1993 and Head of Fine Art at the University of Reading in 2003, to her current position as Curator and Director of the Royal Academy Schools, since 2006. Graduating in Fine Art from the Royal College of Art, Eliza exhibited widely and has work in both private and public collections. Eliza is Vice Chair of Camden Art Centre and recently stepped down from the Council of the British School at Rome where she was also previously a member of the Faculty of Fine Art. 
Mark Davy is a former fine artist who studied at Canterbury College of Art and the Architectural Association. His last exhibition at the RIBA London in 2000 gave its name to Futurecity, set up in 2007 to reflect the growing interest in placemaking and regeneration. He has used the agency to provide a platform that promotes the use of arts and culture, community and wellbeing as a guiding narrative for the development and regeneration of our towns, cities, and urban centres. His work has led to major new funding for the arts in the UK and abroad, and Futurecity has been involved in over 250 cultural projects globally, placing artists in partnership with other disciplines including engineers, landscape architects, developers, and architects.