DFA ARTS EXCHANGE PRESENTS: 'STATES OF EXCHANGE'
Public Programme
DFA Arts Exchange presents 'States of Exchange'
1st April to 2nd June 2023, Thursday to Sunday 12-6pm
50 Celebration Avenue, Stratford, London E20 1DB
PRIVATE VIEW Friday 31st March 5-9pm
An exhibition exploring social interaction through place, memory and time. Reflecting on relations between cooperation, exchange, inequality, power and status. "Reflections on social exchange through creativity"
Curated by Jacqueline Rana and Anne Isaksson 
As in quantum theory, properties can be understood as the effects of interactions. Our approach is inspired by physicist Carlo Ravelli's proposition that a good scientific theory should not be about how things 'are', or what they 'do', but rather about how they affect one another: 'we can understand reality better if we think of it in terms of interactions, not individuals'. How do we, as individuals and communities, emerge in time and place through our entanglements, interactions and relationships, and with what effects on the worlds of which we are part?
States of Exchange configures artwork in transitory domestic social space constructed within a former supermarket.  Through temporal and spatial intersections, we reimagine social relations reflecting on solidarity, status and inequality. 
A creative programme running throughout April and May includes readings, performance, pop ups, talks and screenings. Taking place in an informal atmosphere – our space becomes a home from home. We welcome local artists and performers to respond and add to the exhibition. Visitors are invited to contribute objects, images and sounds that connect them to Stratford creating new conversations and expanding and altering the exhibition over time.
Participating Artists:
Jacqueline Rana, Sara Bor, Andrew Brown, Anne Isaksson, Hassan Aliyu, Lester Korzilius, Jaeyeon Choi, Ali Darke, Paul Greenleaf, Pippa Healy, Justine Hounam, Ruth Jones, Anita Kroo, Ade Ogundimu, Ralph Overill, Dan Polak, Rupert Record, Rachel Shannon, Monika Tobel, K J J Warren, David Watkins, Sue Withers, Jane Wollatt
Supported and facilitated by Hypha Studios and Get Living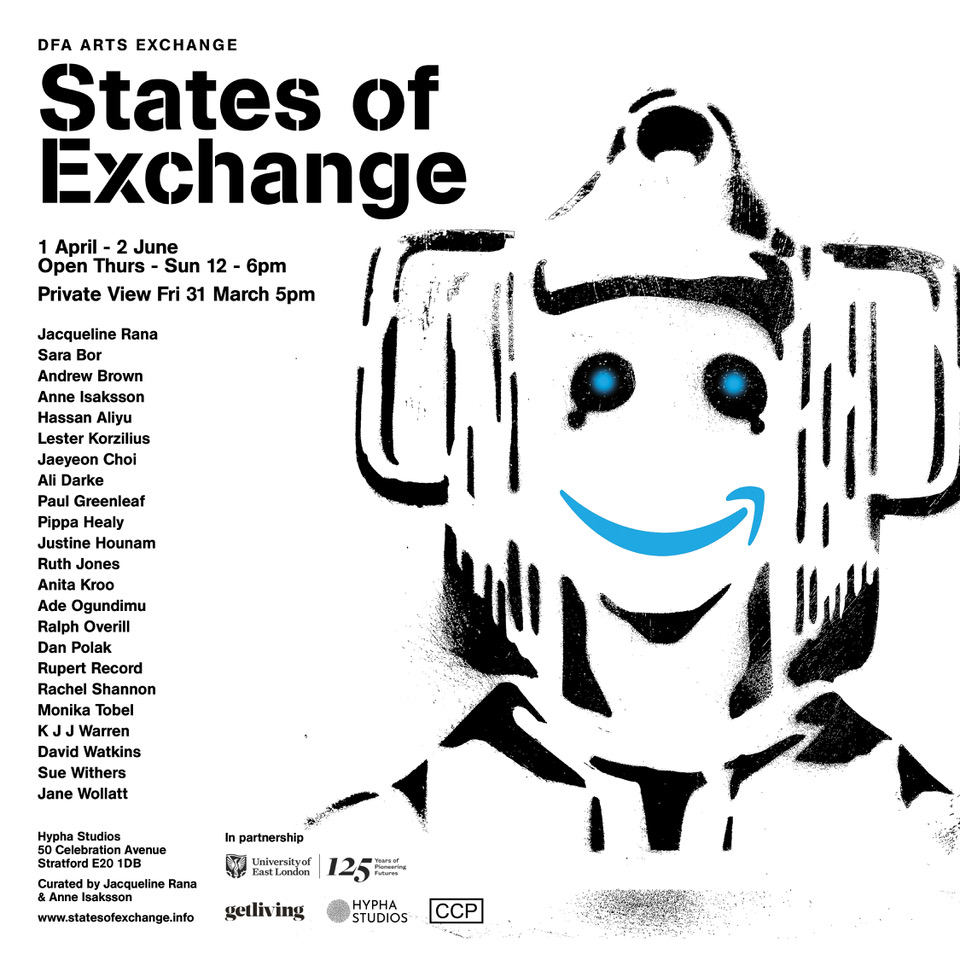 Contact Information
Email: Jacqueline Rana [email protected];  Anne Isaksson [email protected]
Socials: @jacqueline.rana @saraborartist @_andrewjohnbrown @anneevakristina @hassan_aliyu_artist @pippahello @rachelshannonartwork @tobel.art @anita_kroo @rupert_record @danieljamiepolak @david_s_watkins @gudums @ruthkathrynjones @k.j.j.warren @lesterkorzilius @wollattjaneart @justinehounam @paulgreenleaf @between_the_monopoly @ali_darke
Artist Celia Hempton and Get Living
Celia Hempton (born 1981, Stroud, UK) is currently included in British Art Show 9, (touring), and My Life in the Metaverse, curated by Dr. Omar Kholeif, Manarat Al Saadiyat, Abu Dhabi.  A monograph has been published this year by Phillida Reid with accompanying text by Amia Srinivasan.  Her work has been included in many institutional shows, including ICA Boston, Whitechapel Gallery and Serpentine London, as well as Performance Space New York, Gwangju Biennale, Art Night with ICA London, amongst others. It is held in the collections of the Museo de Arte Moderno de Medellin, Colombia, The British Council and the Government Art Collection, UK. 
@hempton's work explores concepts of voyeurism in the post-digital age. In her paintings, performances and installations, she investigates the blurred lines of comfort and consent; desire and subjugation, visibility and opacity; seeking to deconstruct the ways in which we engage with each other in a rapidly evolving age of hyper-mediation. Formally, Hempton's paintings, which range in scale from intimate to life-size, acknowledge the tropes of history painting and the often subjugated female body. Hempton's richly layered paintings directly play with and confront this historical dynamism, producing tactile celebrations of the body, alongside multiple perspectives on how the bodily gaze is constructed. 
In partnership with @wearegetliving
Photo Holly Whittaker.