Introducing Thin Red Lion
Public Programme
Introducing Thin Red Lion
PRIVATE VIEW Thursday 10th August 6-9pm
Open 11th August – 11th September 2023
Thursday to Sunday 12:00 – 19:30
First Floor, 32-38 Saffron Hill, Farringdon, EC1N 8FH
Kindly supported by Hatton Garden BID
Introducing Thin Red Lion. A new collective of artists and creatives walking the line between full time work and a full time practice. This inaugural exhibition the collectives talented and dedicated members.
Exhibited artists: Paul Barbu, Keziah Greenwood, Konstantinos Leloudas, Ellie Niblock, Marine One, Chris Rabbit, Edgar Racy, Emma Ridgway,  Sid and Jim, Emma Todd, Benjamin Warner
Contact Information
Email: [email protected]
Socials: @benjamin_warner @paulstefanbarbu @Kezimay @chrisrabbitartt @edgarracy @emmycrayon @ellieniblock @marine_one_art @3mmatodd @sid_smith @leloudask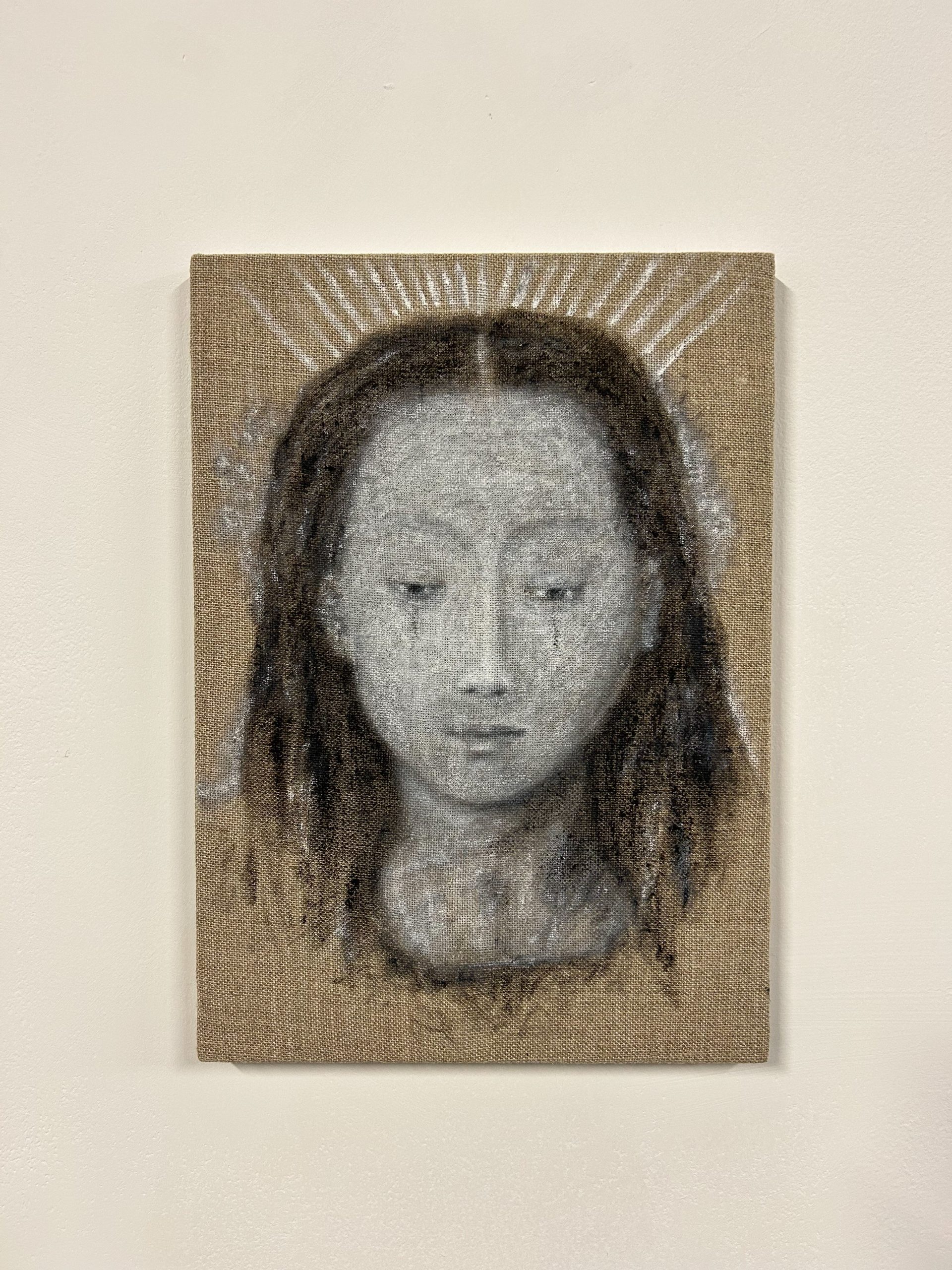 Benjamin Warner
 "Annunciation" Oil on ax. H 21cm x W 29cm, 2023
320x160cm
POA
Benjamin Warner
"Change is a River" Oil on canvas. H 50cm x W 40cm, 2023
Chris Rabbit
"Folded under the pressure of male expectation." Oil, acrylic, soft pastel and spray paint on canvas. Shelf made from chip foam wood and tie down. straps. H 92cm X W 26cm, 2023
Chris Rabbit
"Alternativley orange" Mixed media. H 34cm x W 15cm x D 18cm
Chris Rabbit
 "The most harmless thing" Mixed media. H 34cm x W 15cm x D 18cm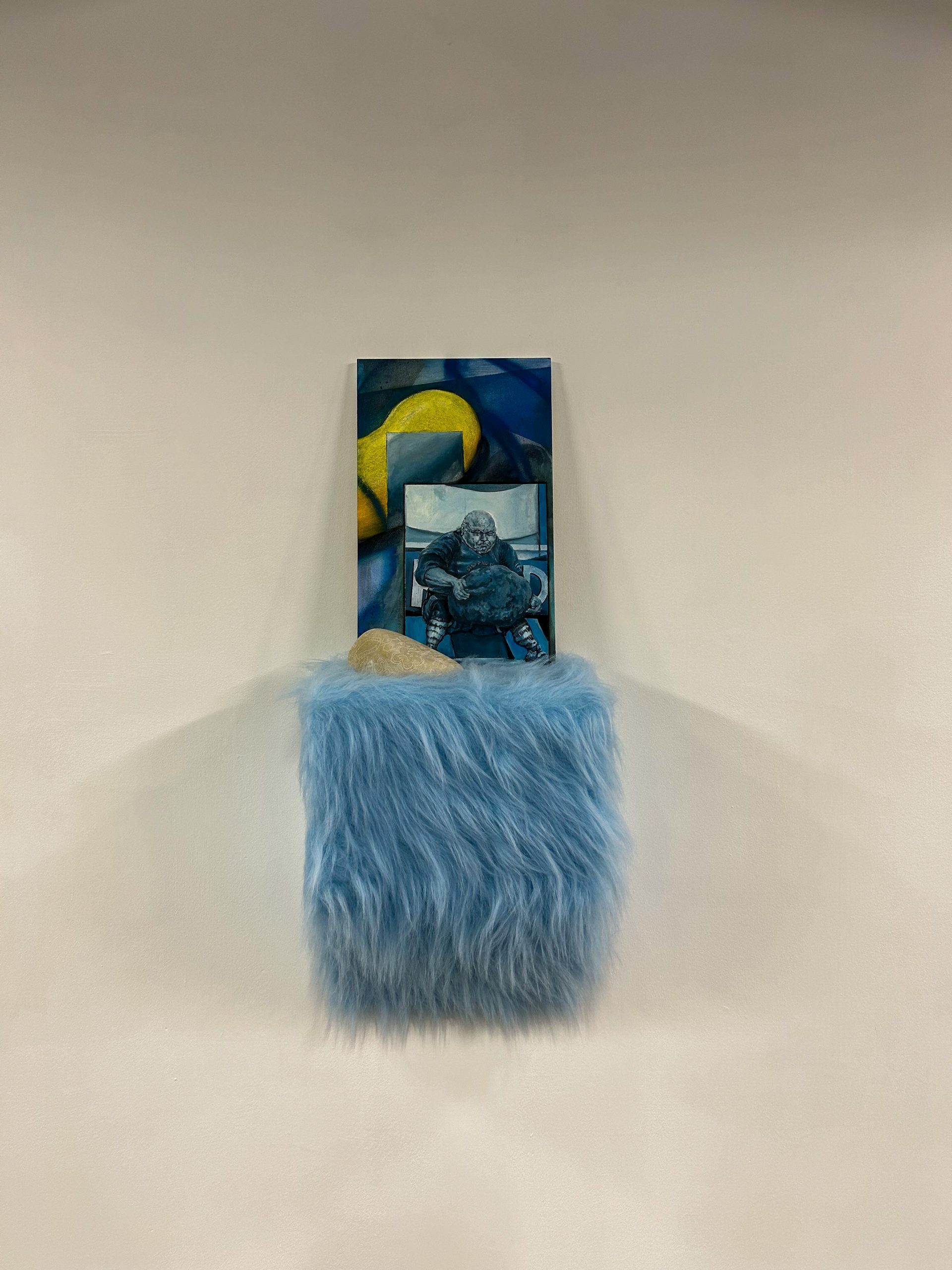 Chris Rabbit
"Trapped between a soft and a hard place." Oil, soft pastel and spray paint on board. Engraved stone. Faux fur shelf. H 85cm X W 24cm X D 17cm, 2023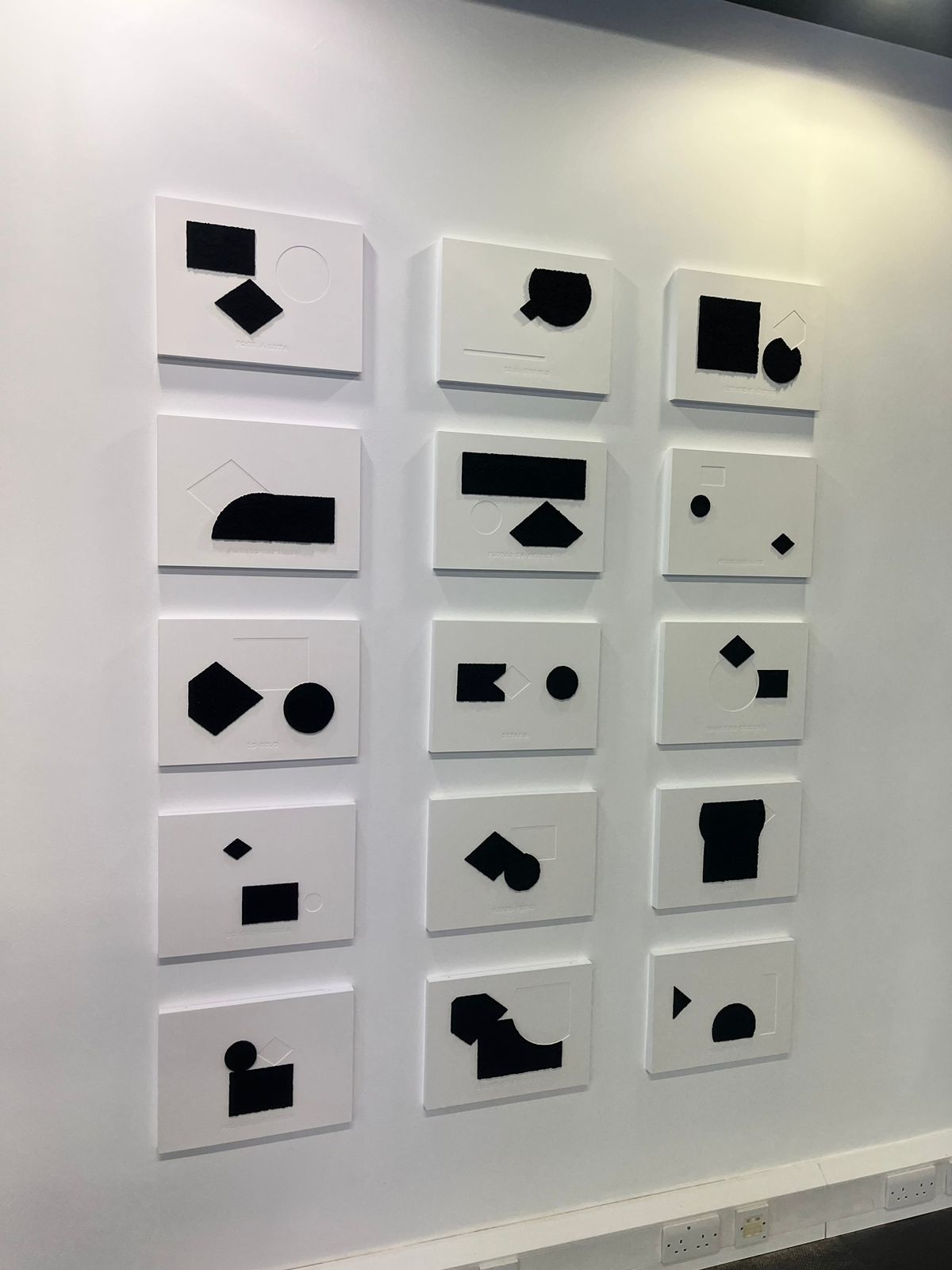 Edgar Racy
 "Beloved Homeland_" Charcoal and binder on paper. (an artwork comprised of 15 pieces). H 27cm x W 37cm (each)
Edgar Racy
 "Between the lines" Oil on pink masking tape on paper. (6 individual artworks) H 25cm x W 41cm (each)
Ellie Niblock
 "One Single to Maybem" Clay, foam, glue, paint, jesmonite, polystyrene, wire. H 305cm x W 373cm
Ellie Niblock
 "Ouchiewawa" Silicone, foam and paint. H 140cm x W 120cm x D 120cm
Emma Ridgway
 "Every Decision Divides Us" Framed giclée print on Hahnemuhle paper. H 60cm x W 60cm, 2023
Emma Ridgway
 "Vulpecula" Cotton appliqué with copper and yarn. H 60cm x W 109cm,
Emma Todd
 "Matsuri" Cork-board, plastic packaging, masking tape, newspaper. H 113 x W 90 x D 64cm Newspaper, wooden block, charcoal H 65 x W 52 x D 5cm Wooden block, plastic packaging, cotton fabric, newspaper H 21 x W 52 x D 5 , 2023
Keziah Greenwood
"Flip of a coin" Acrylic, house paint. 30.5 X 91 cm
Keziah Greenwood
 "Her champion" Acrylic, house paint, Oils and Conté on canvas. H 66cm x W 91cm
Konstantinos Leloudas
"Eggs _ Mozzarellas" Mixed media. H 127cm x W 115cm x D 35cm, 2023
Marine One
"Untitled (Nicolas and Ryan)" Fabric, foam sponge, thread, toy stufng, shirts, hoodies and tie. H 150cm X W 110cm X D 45cm, 2023
Sid & Jim
"Incessant cloud seeding" EVA foam, 3D printed PLA and plastic piping. H 95cm x W 60cm x D 60cm and "Torrential cloud seeding" EVA foam, 3D printed PLA and plastic piping. H 225cm x W 80cm x D 80cm
Sid & Jim
"After the gold rusts (World Cup)" 3D Printed PLA, Spray Paint. H 40 x W 15 x H 15
Sid & Jim
Backseat Freestyle (Languishing)" Modied car shade. H 50cm x W 35cm and "Backseat Freestyle (Idling) " Modied car shade. H 50cm x W 35cm
Sid & Jim
 "Little lonely people doing little lonely people things" 14 Small plastic gurines. H 2.5cm x W 1cm x D 1.5cm (each)
private view images 10th August!
ABOUT THE ARTISTS
EDGAR RACY – While the majority of people see disposable and obsolete objects as garbage, Edgar sees them as raw material. His daily contact with the excess of waste disposal motivated him to use it in his works. At times, the artist deconstructs the shape of an object using different techniques, and with that material, he assigns the discarded object a new applicability. On a slightly different approach, he retrieves an object without deconstructing it; as its strength lies in its original form. Therefore, he uses in his practice the object in its raw form and grant the rejected material new life and language.
PAUL BARBU – Paul's practice is interdisciplinary, with a special emphasis on sculpture, installation, drawing and collage. He is fascinated by materiality and the methodology behind every aspect of creating, the process is at the forefront of my work. Paul is very interested in how objects occupy space, that they are not just bound by walls or floors, but create their own kind of temporary architecture within the gallery space. His careful juxtaposition of objects is articulated by choreographing contrasting surfaces – hard against soft, natural against synthetic – creating a tension which binds the work together. The architectural arrangements of found objects create a sequential, cinematic experience reinforced by the fact that a majority of the works have dioramic compositions. The focus of his work is to see how these objects communicate between each other and how the entire composition relates to the space around it. Paul's final goal is to give the viewer a physical experience, rather than a pictorial one. he likes to play with meanings, creating my own strange, compressed archaeology, to which the viewer is invited to expand into an imaginary life. My mythology-inspired body of work is alive and ever-evolving.
EMMA RIDGWAY – Makes collages using public domain images, in a process of discovering by making. Collecting, selecting and placing images in relation to each other, so that they take on new meanings and become something else. The work will take the form of collages developed into fabric wall hangings and kinetic mobiles. A palette of rich dark earth colours with flashes of vivid coppers will dominate this series which explores ideas of hidden treasure and shadowy deeds.
KEZIAH GREENWOOD- Happenstance forms these artworks. Abandoned kodak slides, half read novels, layered with found images, found objects, overheard tales and observations. There is no story that can be told that will not have another perspective. These works play with a multi-viewpoint, reminding the onlooker that what we are presented is not always the full picture. Using a slippage of the gaze and visual language of the past and present, these works leave you with more questions than answers.
EMMA TODD – Emma's practice explores questions of mixed cultural heritage, Japanese indigenous knowledge, rituals and iconographies. The work seeks to promote an urgent conversation about Western perspectives and the imminent extinction event; looking at multi-species worlds, ideas of waste and vitality, the aesthetics of care, living and non-living systems, co-existence and interconnected ecologies. Often turning to the use of natural dyes, recycled textiles and reclaimed materials to create painting and sculpture.
ELLIE NIBLOCK- is a multidisciplinary artist. Her work combines sculpture and digital technologies, investigating the relationship between the physical and the digital worlds and how they co-exist. Curious about touch, she uses an eclectic mix of materials to create vibrant, organic forms. Her work seeks to visualize the invisible, making an intangible emotion or memory become tangible. Through this, Ellie explores the possibilities of how materiality and technologies can alter our perception of experiences. This idea stems from an interest in world building, challenging the capacity for one to understand the nature of materiality when there is a blending of the tangible and the digital. This guides her sculptural
forms and digital work, looking closely at the overlap between the two mediums.
MARINE ONE – The pleasing sense of uncomfortableness when you are looking at the uncanny, strange, curious image is an essential element in my works. Marine has been experimenting more with interactive installation recently, to give the audience the experience not only through vision but the sense of touch and the consciousness of the involvement in the work. Thus, it brings to prominence that which normally remains at a subconscious level. She believes that by making the audience in the artwork, the dichotomies of active/ passive and of audience/ exhibit, can be dismantled: and the artwork – which carries a powerful influence in how it might be interpreted – gains agency towards the audience.
BENJAMIN WARNER – Ben's work portrays humanity's relationship with nature, presenting the body as a vessel; through birth, life and death. He is interested in the uncanny relationship between our thoughts and our bodies. Drawing from 'Solastalgia', which describes a form of emotional distress caused by environmental change – it defines a feeling of homesickness to a place of landscape or time rendered unrecognizable by climate damage. Ben presents the demise of our fellow creatures and the recognition of the creaturely within us, in order to carve out our collective future. Flattening hierarchy between animals, humans, plants and technology, questioning what it means to be present in our bodies and in our world. Ben has previously exhibited at Tate Modern, Firstsite and Leeds Art Gallery and was a participating artist for the Zabludowicz Collection's Master Class 2020.
CHRIS RABBIT- With a practice that was rooted in painting Chris Rabbit's practice has evolved into an exploration of the spaces between sculpture and painting. Aiming to champion the sculptural potentiality of painting and highlight the value of paintings as objects rather than solely images. We live in a world flooded with images and on a daily basis we passively experience thousands of images and artworks, the work therefore tries to highlight the material nature of painting, the physical presence of an artwork.
Within this overarching theme he explores the power of images and abstraction and how they interplay to attach context to each other. The images and themes present in this further exploration in many ways represent personal issues of identity sexuality and masculinity.