"Diving into the Hills" – curated by Nanying Zhu and Jingxuan Lyu
Public Programme
DIVING INTO THE HILLS – curated by Nanying Zhu and Jingxuan Lyu
PRIVATE VIEW Thursday 4th May 2023 6-9pm
Open Friday May 5th – June 17th 2023
Tuesday – Sunday 11 – 7pm
60 Conduit Street, London W1S 2YZ
Kindly supported by Regents Street W1
In collaboration with Hypha Studios, 'Diving into the Hills" brings together a group of 14 artists that explore the relationship between landscape, narrative, gender and experience in a crossgeographical context. Nanying Zhu and Jingxuan Lyu are curators aiming to perform an on-site spring diving, leading audiences to walk into the hills in the post-epidemic period.
Included artists are: Emma Sielaff, Evangeline Morris, Miles Lauterwasser, Christos Kakouros, Yuanyuan Liu, Feifan Hu, Nanying Zhu, Jing Wang, Ruiyao Zhu
Upcoming events:
1) Artists's Books
Exploring form and material which cannot be separated from artists' book and how to publish integrates into this field.
2) Drawing on encounter
Discussing the practice approach to drawing from the perspective of the artist's own artistic practice.
3) Bread Sculpture
Making bread into sculptures with participants and distributing them to the community.
4) Rubbing-Traces of life
Introduction and demonstrate rubbing techniques and joint rubbing practice with participants in the area.
5) Towelling-Transforming
The simple act of folding into a performance that narrative an intimate moment between mothers and daughters.
6) River Round Table
An evening conversation inviting residents to demonstrate rivers, life and memories.
Awards:
The long-term Consensus Communities "Project AnotherLand" in China, Nanying Zhu
Collaboration with artist Micah Lexier-Printed Envelope Project UK,2023, Jingxuan Lyu
Co-publication: Artist Talk Magazine-The Next Generation-Issue 20, UK,2022, Feifan Hu
The Winner of purchase prize: Clifford Chance postgraduate printmaking London,2022, Evangeline Morris
Member of the organizing team of Impact9·International Printmaking Conference China,2015, Nanying Zhu
Exhibitions:
New Contemporaries, (UK,2023)
Impact12·International Printmaking Conference, (Bristol,2022)
Summer exhibition, (UK,2022)
Dimensions Interaction-The 2nd Domiao Contemporary Art Exhibition, (China,2021)
43rd Japan University Print Exhibition, (Tokyo,2018)
Contact Information
Email: [email protected]
https://jingxuanlyu.co.uk/
Socials @big.smiley.face  @evangelinemorrisartist  @miles-lauterwasser @christos_kakouros  @yaun_illustration @ionff  @nan_nannan Jing Wang, Ruiyao Zhu
Feifan Hu
'Towelling' (2023)
Sculpture and Performance, Textiles
71 minutes
Not for sale
Christos Kakouros
'Domestic Fire' (2023)
Eighty-page book, oil, pastel, charcoal,
95 x 165mm
Not for sale
Christos Kakouros
'Wounded Passport' (2023)
Forty-eight-page book, oil, pastel, charcoal, pencil
88 x 125mm
Not for sale
Miles Lauterwasser
'Untitled' (2023)
Digital print
53 x 80cm
unframed £225
framed £500
Miles Lauterwasser
'Untitled' (2023)
Digital print
53 x 80cm
unframed £225
framed £500
Siyi Liu
'Borderland' (2023)
Oil on canvas
84 x 100cm
Not for sale
Siyi Liu
'As you walk through' (2023)
Moving Image, textiles
Not for sale
Yuanyuan Liu
'Flower' (2023)
Etching, hard point and sugar lift
14 x 19cm
unframed £150
framed £200
Evangeline Morris
'Vitrine of Research' (2023)
Objects of research, text, written sections from research conversations
Measurements on request
Not for sale
Yuanyuan Liu
'Flower' (2023)
Etching, hard point and sugar lift
14 x 19cm
unframed £150
framed £200
Jingxuan Lyu
'Star House' (2023)
Etching
25 x 25cm
unframed £180
framed £200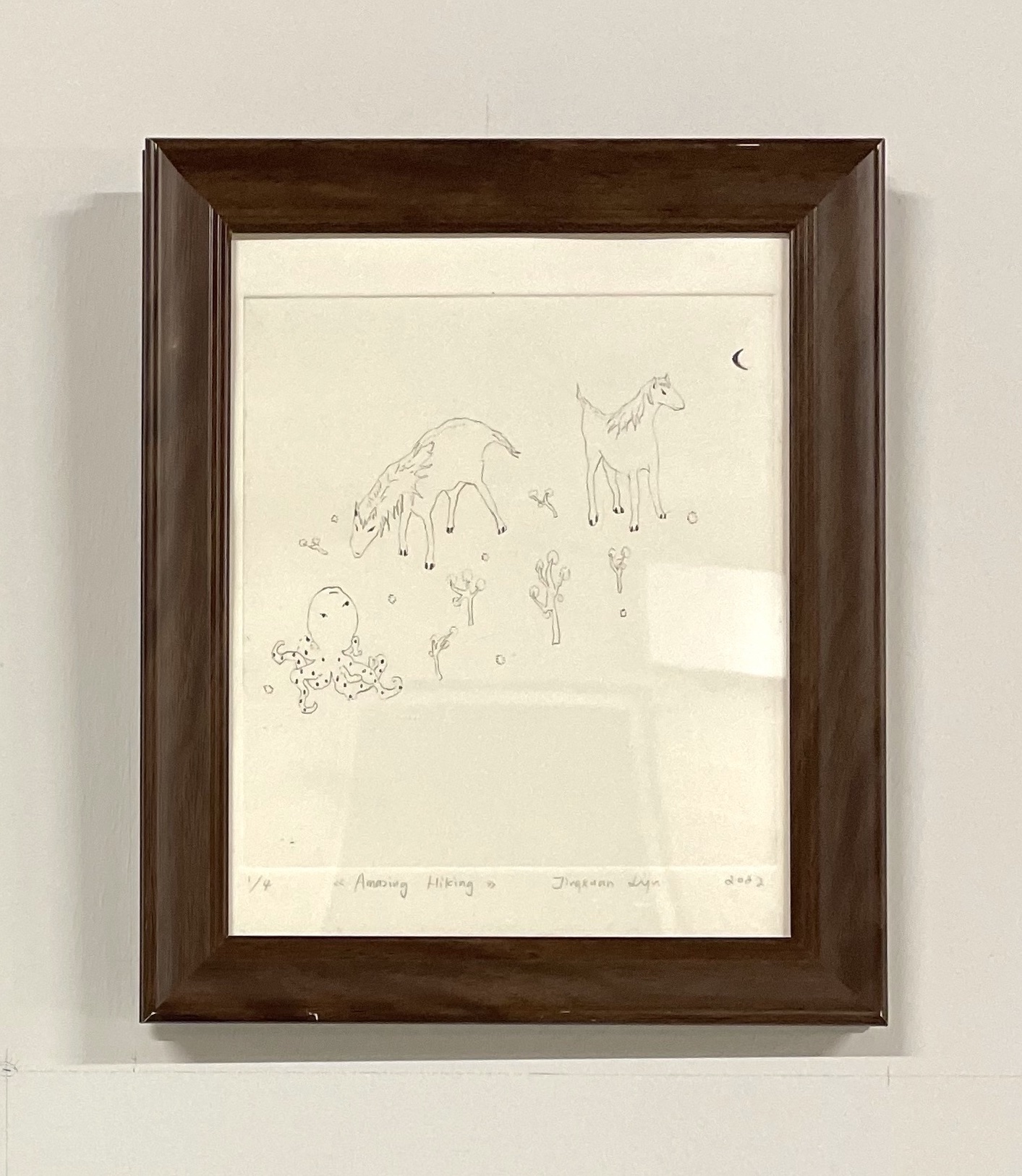 Jingxuan Lyu
'Amazing Hiking' (2023)
Etching
25 x 30cm
unframed £180
framed £200
Jingxuan Lyu
'Goldfish and Me' (2023)
Etching
25 x 25cm,
unframed £180
framed £200
Jingxuan Lyu
'Ghost and the Water Chestnut' (2023)
Lithograph
80 x 100cm
unframed £920
framed £1100
Jingxuan Lyu
'The Falling Giant' (2023)
Lithograph
80 x 100cm
unframed £800
framed £980
Jingxuan Lyu
'Have you ever seen Baiji' (2023)
Lithograph
80 x 100cm
unframed £800
framed £980
Evangeline Morris
'Legacy' (2023)
Etching, on site drawing, Somerset paper
50 x 70cm
Not for sale
Evangeline Morris
'Earth Map' (2023)
Dry point with earth pigment monotype
17 x 45cm
Not for sale
Miner Zeng
'A Wound Crack' (2023)
Linen, print
65 x 800cm
Not for sale
Emma Sielaff
'Sniffing Glue' (2023)
Digital printon silk, pink metal rod, green acrylic chain
Measurements on request
Not for sale
Jing Wang
'Shell House' (2023)
Lithograph on paper
28 x 37cm
unframed £630
framed £750
Jing Wang
'Touch Sun' (2023)
Etching on paper
18 x 25cm
unframed £480
Jing Wang
'Yellow Pupils' (2023)
Lithograph on paper
30 x 43cm
unframed £380
framed £480
Huiting Yan
'Fresh Live Broken Clock' (2023)
3D print rabbit, artificial grass, leaves, power banks, turntables
Measurements on request
Please enquire for prices
Nanying Zhu
'Tracking the Tides' (2023)
Etching on Somerset paper, hard ground
25 x 30cm
unframed £210
framed £260
Nanying Zhu
'Tracking the Tides' (2023)
Etching on Somerset paper, soft ground
25 x 30cm
unframed £210
framed £260
Nanying Zhu
'Tracking Tides' (2023)
Laser cut on Somerset Paper, digital print
25 x 30cm
Not for sale
Ruiyao Zhu
'The Deep Land' (2023)
Lithography, collagraphy and etching on linen
150 x 200cm
Not for sale
OPENING NIGHT 4th May 2023