"Just a Bunch of String" – curated by Patrick Stratton
Public Programme
JUST A BUNCH OF STRING – curated by Patrick Stratton
Private view: 31st August 6 -9pm
1st September – 27th September
Thursday – Sunday 12 – 6pm
50 Celebration Avenue, Stratford, London E20 1DB
Kindly supported by Get Living and East Village London
In collaboration with Hypha Studios, 'Just a Bunch of String" curated by Patrick Stratton, brings together a collection of emerging artists, that all interact with textiles, showcasing latest work reflecting the medium of textiles and what it is capable of doing.
This show will depict the many ways textiles can be used as a vessel to comment on the conceptual, or the everyday illustrating how compelling just a bunch a string can be.
Included artists are:
Patrick Stratton,Tanya Wilson, Renin Bilginer, Bobby Heffernan, Leily Moghtader Mojdehi, Karolina Dworska, Andia Coral Newton, Selby Hi, Illnos Owen and Heidi Pearce
Upcoming events:
This exhibition will have an opening night, talks and performance nights.
Contact Information
Email: [email protected]
https: https://www.patrickstratton.co.uk/
Socials: @tanyanwilson @renin_bilginer_art @bobby_heff @mojjyart @karolinkadworska @andiacoralandiacoral @selby_hi @heidipearce_art @lliinos
Patrick Stratton
'Things I Do Sometimes: Raise a Glass,' ⁠2023
Hand woven Tapestry, acrylic, brass, cast iron and electronics
53 x 44 x 22 cm⁠
Patrick Stratton
Things I do Sometimes: Bike Pump 2022
Tapestry on Canvas
100x80cm
Bobby Heffernan
'Tíra a nÓg,' 2023
Weaving in a fridge door
95 x 58 cm
Bobby Heffernan
For when I grow up 2023
Weaving in A Fridge Door
Bobby Heffernan
For Nuclear 2023
Weaving In A Fridge Door
Karolina Dworska
Flayed 2023
Tufted Axminster Rug
120 x 100 cm
Karolina Dworska
Again and again and again 2023
Tufted Axminster Rug
Karolina Dworska
'False Awakening', 2021
Digital knit
55 x 85 cm
Andia Coral Newton
'The Scavenger (semi mature),' 2022
Cotton digital knit
190 x 155 cm
Andia Coral Newton
A Naked Hermit Crab 2023
Digital print on cotton, recycled wool thread, mdf board, black paint, upholstry pins, dyes: woad, madder and buddleia
60x48cm
Andia Coral Newton
A Sheltered Person 2023
Digital print on cotton, recycled wool thread, mdf board, black paint, upholstry pins, dyes: woad, madder and buddleia
60x48cm
Andia Coral Newton
A Bat Shuttle 2023
Digital print on cotton, recycled wool thread, mdf board, black paint, upholstry pins, dyes: woad, madder and buddleia
60x48cm
Tanya Nothando Wilson
'Entering Eden,' 2020
Tapestry
1550 x 130 cm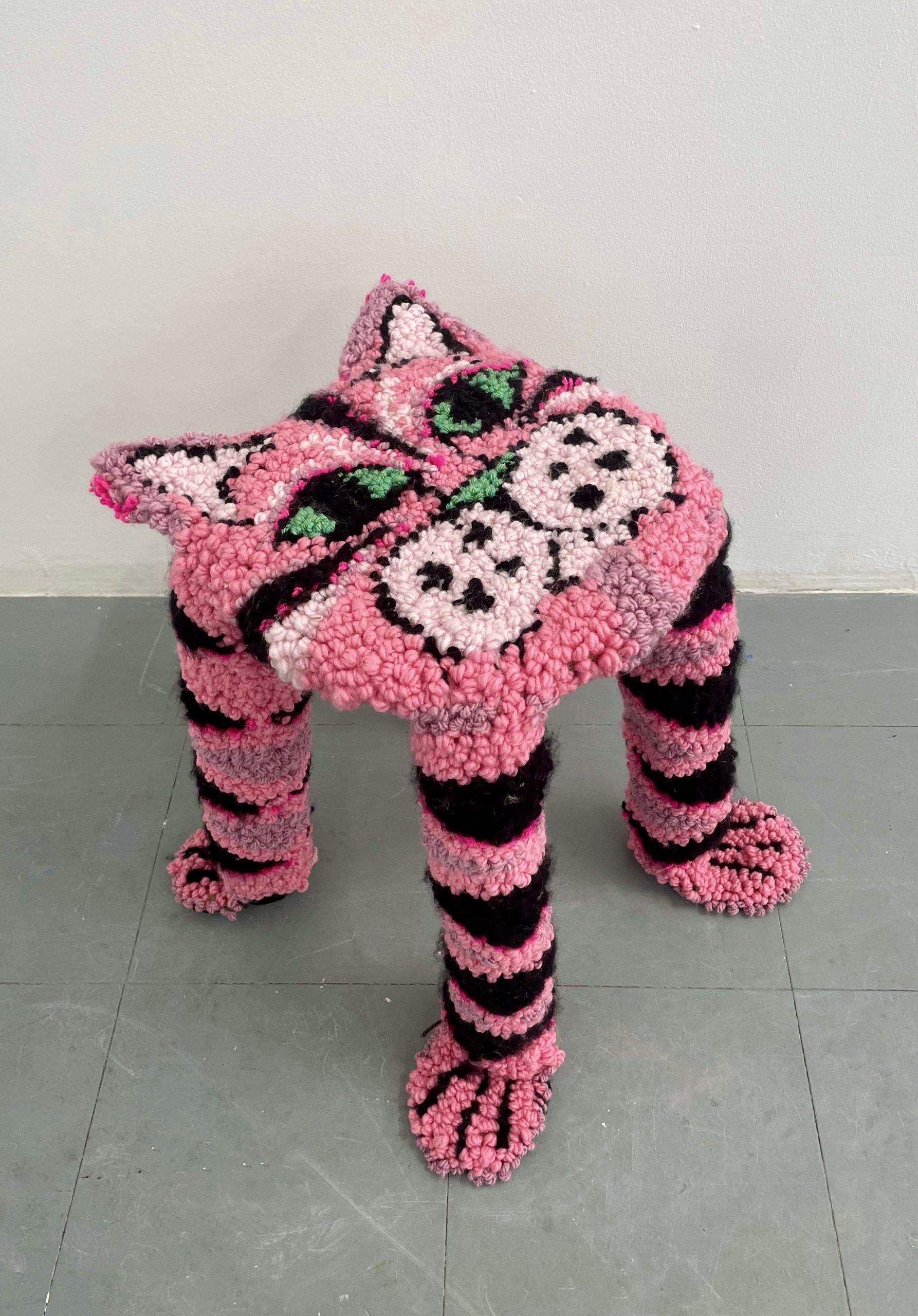 Selby Hi
Trails of Tails 2023
Wool and hessian on plastic and metal stool
50x50cm
Selby Hi
The ginger kitty wants me to sit on his knee 2021
Wool and hessian on plastic chair
115x140cm
Selby Hi
Be with me, 2022,
Wool and hessian on plastic and metal chair
100 x 97 x 65cm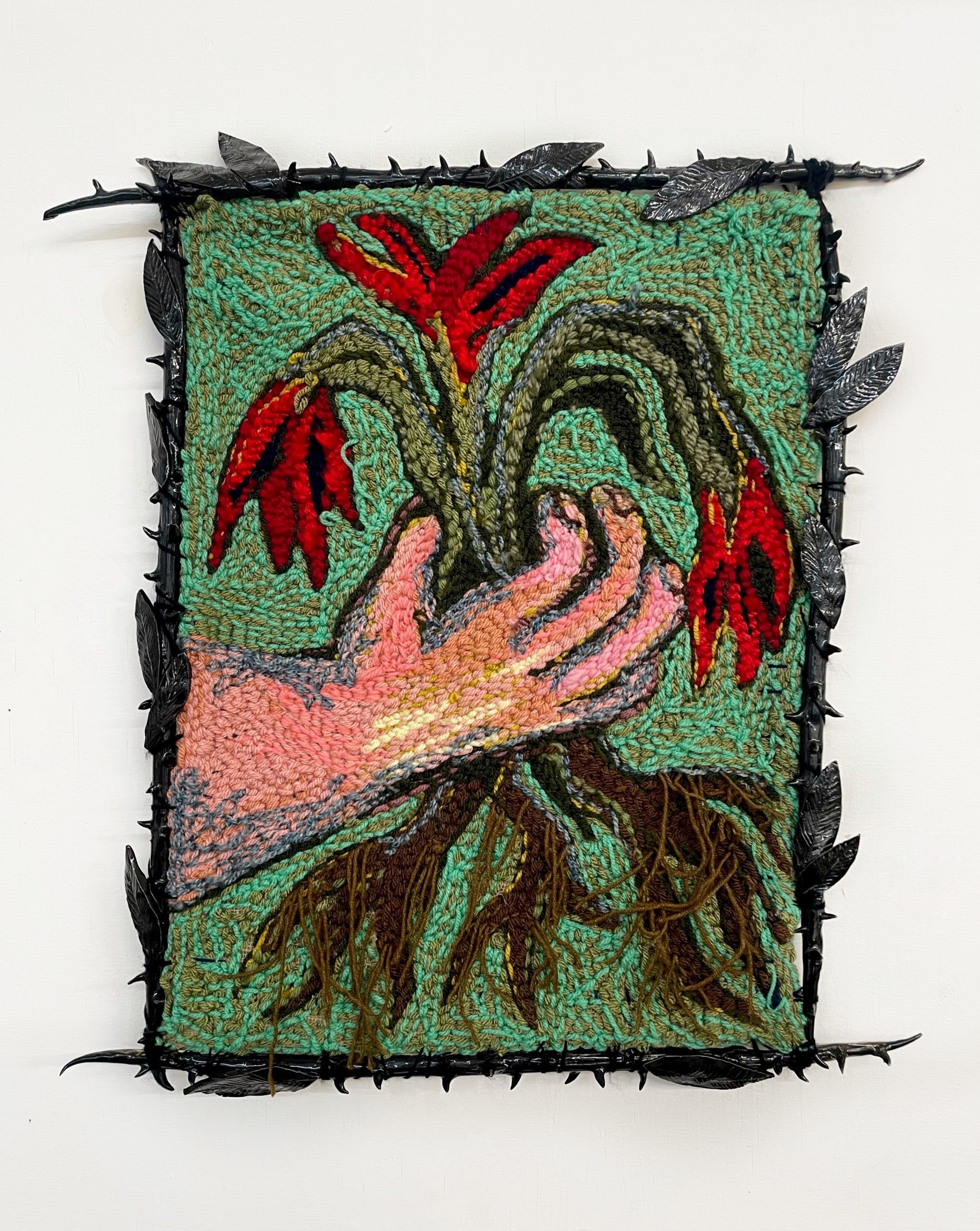 Selby Hi
Making me float off the ground' 2023
Wool and hessian with ceramic stoneware and glaze
49x37cm
Selby Hi
Pulled from earth, 2023
Wool, hessian, ceramic stoneware and glaze
36×12 cm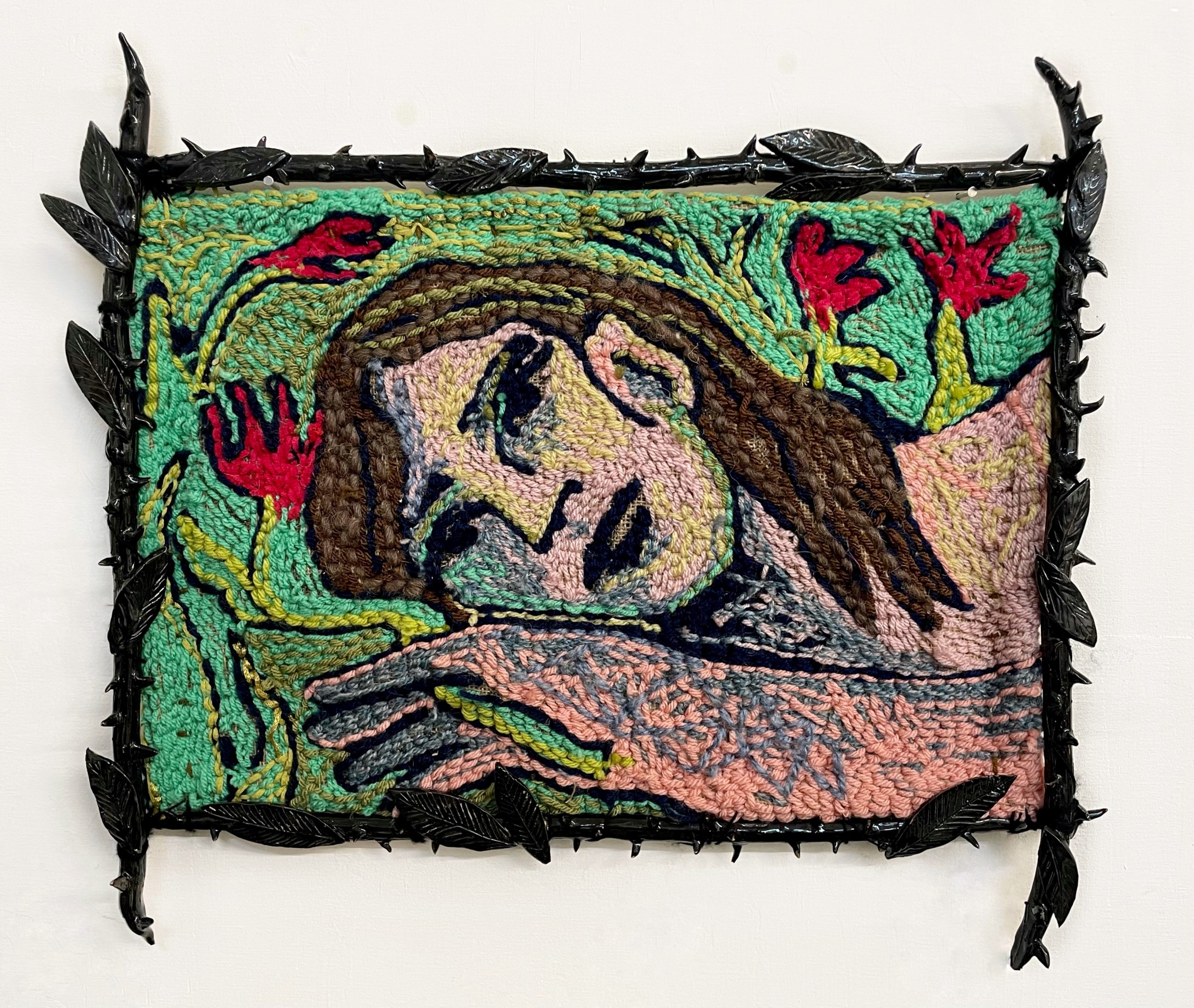 Selby Hi
Held by your hundred arms, 2023
wool on hessian with stoneware ceramic and glaze
42x38cm
Llinos Owen
"Lavender Lemonade",
2023
yarn on hessian
85cm x 85cm
Llinos Owen
Xx, 2022
yarn on hessian
44 x 40cm
Leily Moghtader Moidehi
Spike 2023
Acrylic, oil pastels, fabric, embellishments, found matter, air dry clay; with embroidery
110 x 136 cm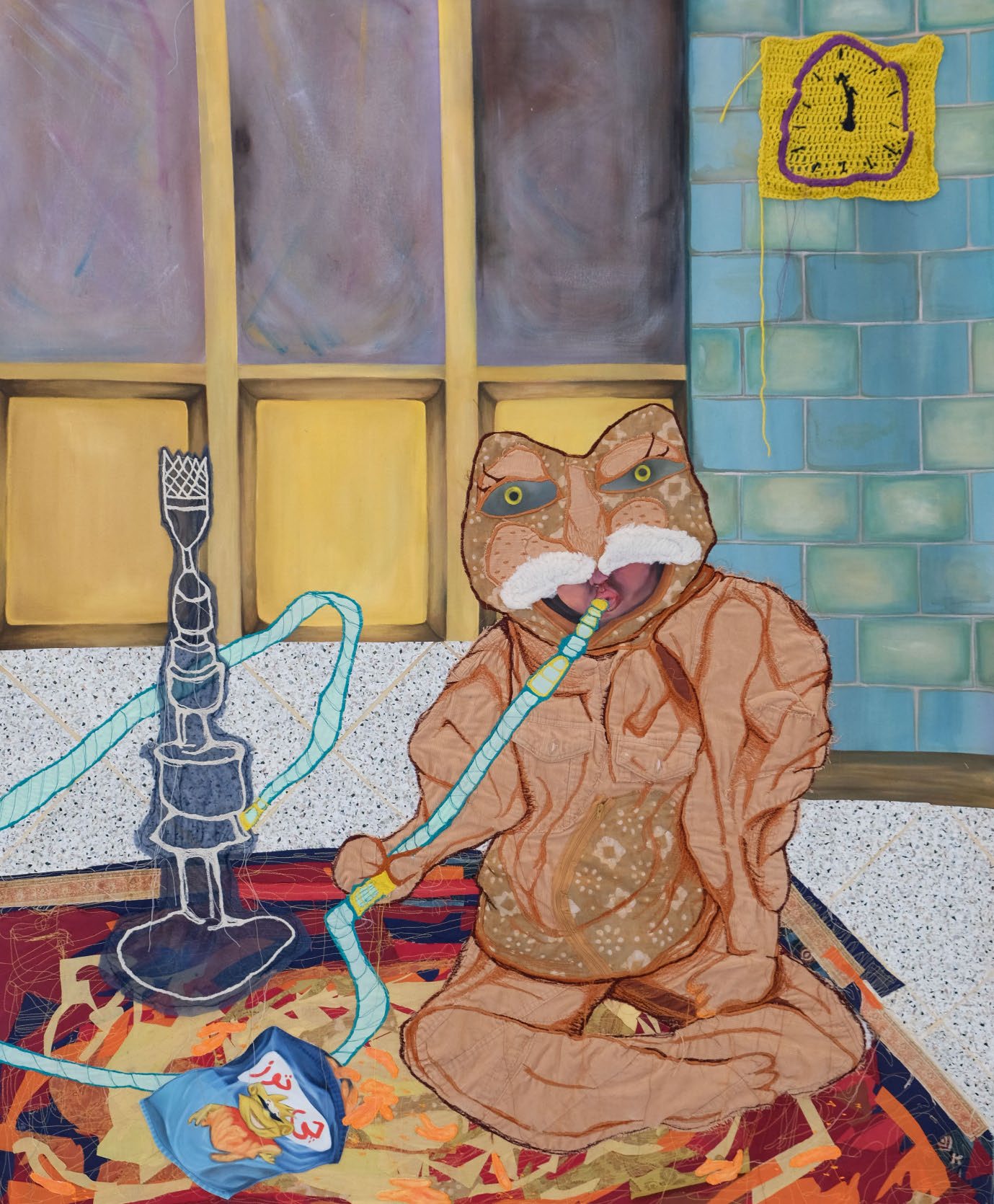 Leily Moghtader Moidehi
Iron deficient lion
2022
Acrylic, fabric, wool, vinyl sticker; with embroidery on canvas
68 x132 cm
Renin Bilginer
The Original Sin 2023
Single Channel
9.49 min
Cinematography: Renin Bilginer and Anders Ari
Sound: Daisy Foster
Graphics: Anders Ari
variable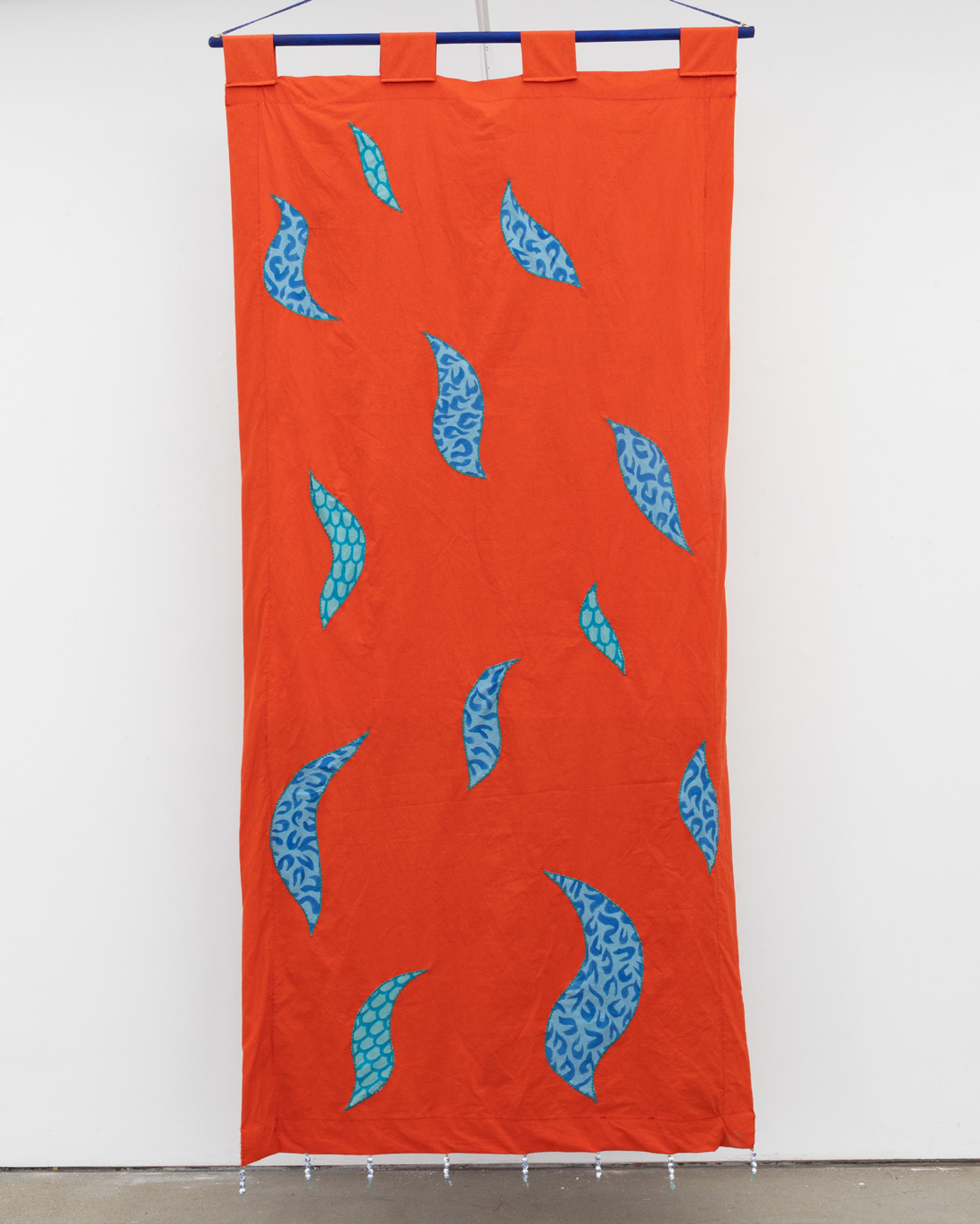 Renin Bilginer
Faces of Sin 2, Dye paste, dyed cotton, thread, wood, spray paint, pen Variable dimensions.jpg
Renin Bilginer
Ode to Our Land 1
Dye paste, dyed cotton, thread, wood, spray paint, pen
(x3 Flags available – installation).
Variable dimensions
Renin Bilginer
For the Family 2023
Dye paste, dyed cotton, thread
112 x 118 cm
Heidi Pearce
A Blonde, A Ginger and a Brunette Sweep Up Their Marbles 2023
Faux fur, poly fibre stuffing, metal armature.
Brooms and marbles
60cm x 125cm (each dog)
PRIVATE VIEW 31ST AUGUST!
Patrick Stratton combines mechanics and weaving in his moving tapestries that often have humorous and relatable compositions. Stratton graduated from City and Guilds School of Art in 2021 and recent exhibitions include duo-show Wobblegob, and the Saatchi StART Art fair.
Tanya Northando Wilson is a contemporary artist born in South Africa to a Zimbabwean mother and Malawian-born British father and bought up in England. Wilson combines the two halves of her identity by juxtaposing traditional methods and contemporary themes into experimental and personal expressions of her lived experiences. Graduating from Camberwell College of Arts UAL in 2019 Wilson's recent work was shortlisted for the Cordis tapestry prize in 2021 and her work was included in the Watching Trees festival in 2022
Rooted in the cultural context of her mixed British and Turkish heritage, contemporary artist Renin Bilginer interrogates what it means to exist as a woman between Eastern and Western cultures. Bilginer is currently studying MA Painting at the Royal College of Art and her work explores the transformative power of masking in relation to identity and the reclamation of the female body. Renin's vibrant narrative compositions explore the parallel worlds of her mythologised experiences and her imagined alternative realities.
Bobby Hefferman is a London based fine artist, working with a specialism in contemporary weaving. A self-taught weaver, working with a humorous combination of materials to create dysfunctional compositions. Often combining high and low value materials. Heffernan Graduated from City and Guilds of London Art School in 2022 and was the winner of the Sir Denis Mohan sculpture project grant and the David Ballardie travel prize. Heffernan has shown around London, and is currently involved with the Koppel Studio Project.
Karolina Dworska is a British-based Polish artist who works predominantly in sculpture and rug-making. Her artistic practice explores dreams, mythologies and delves into the subject matter of the in-between. Dworska graduated from Goldsmiths in 2020 and was one of the artists selected for the 2021 Bloomberg New Contemporaries. Her work has also been exhibited internationally, in Madrid and Seoul.
Andia Coral Newton works across textiles and installation whom primarily dwells on the place of human-beings in the ecology of planet earth, the adaptability of sea-creatures, 'scavengers', and how we perceive history through images. Newton graduated from Goldsmiths in 2020 and recent exhibitions include the London Open Takeover at Whitechapel Gallery and Creature Comforts at JGM Gallery. Newton is also the current exhibitions coordinator for the Bermondsey project space in London
Selby Hi grew up in Brighton, moving to London to study at Central Saint Martins, receiving the 2019 Graduate Art Prize. Hurst Inglefield is known for her rug-punched technique to create colourful sculptures and wall pieces. Hurst Inglefield's textile connection runs through the generations as memories of her mother's textile artworks in her childhood home inform the stories her tufted pieces embody. Brighton often forms the settings of her portraits, featuring landscapes inspired by the body of the sea and recognisable white cliffs of the coast. Recently she has turned to look at the domestic space and how joyful objects can transform a home's atmosphere.
Llinos Owen is a contemporary artist who works in textiles. Beginning with personal written and visual material from her diary, Owen makes hand tufted pieces as a way to process different experiences and thoughts relating to vulnerable themes. Owen graduated from Wimbledon College of arts in 2020 and has exhibited with Delphian Gallery, at the The Other Art Fair, and had a solo show at Orleans House Gallery in 2021.
Heidi Pearce is a contemporary artist who works mainly in soft sculpture focusing on introducing a new mode of uncanniness within contemporary art though animal-like sculpture. Pearce graduated from Goldsmiths in 2019 and recent exhibitions include Creature comforts at JGM Gallery and a solo show at Bermondsey Project Space