"MELT" – a Hypha Studios x Creative Land Trust exhibition
Where: Unit 3. Euston Tower. 286 Euston Road London NW1 3DP
When: Private view Wednesday 11th October 6 – 9pm RSVP here
Frieze West End Night Thursday 12th October 6 – 8pm RSVP here
*with a conversation about making new space for culture in cities*
OPEN: Monday 9th – 22nd October 2023
12 – 6pm daily
Hypha Studios (HS) and Creative Land Trust (CLT) have joined forces to present a new exhibition, as part of Frieze 2023, spotlighting the work of 32 exceptional artists that we have supported in the last year. In a city pulsating with creative energy, MELT shines a spotlight on the source of London's artistic vibrancy.
The exhibition's title, MELT, pays homage to the legendary FREEZE exhibition curated by Damien Hirst in 1988 – a pivotal moment that echoes the current climate of creative evolution. Just as the Young British Artists emerged from that time, MELT raises poignant questions about the future of contemporary artists amid the wealth of unclaimed spaces. Creative Land Trust and Hypha Studios are aligned in their mission and provoke audiences to think about who and what will flourish when artists are afforded the space they deserve.
Creative Land Trust was set up to acquire, preserve and protect long term affordable workspaces for artists, whereas Hypha Studios negotiates free short-term studio and exhibition space for artists in return for a public programme to benefit local communities.
MELT is the inaugural exhibition at Hypha Studios' brand-new central London location, Regent's Place, as part of a three-year partnership with British Land. Regent's Place, owned by British Land, is a fully managed campus including a mix of offices, retail and residential property and is expected to host a number of other exhibitions over the three-year period. British Land provides high quality space to a broad range of local organisations on an affordable basis as part of their commitment to create long-lasting positive impact on the communities they operate within.
For press inquiries, interviews, and further information, please contact:
[email protected]
Artist list:
CLT Ambassadors: Adelaide Damoah, Haroon Mirza, Emmanuel Unaji
CLT Artists: Shiori Akiba, Urania's Children, Enej Gala, Luke Grosch, Zarina Khan, Lindsay Mapes, Max Maxwell, Ruoru Mou, Mimi Owen, Hanne Peeraer, Carina Santos
Hypha Studios Artists: Margaret Ayres, Paul Barbu, Luca Bosani, Flora Bradwell, Hot Desque, Chris Rabbit, Elliot Fox, Jon Kipps, Sara Marinangeli, Celeste McEvoy, Lindsey Jean McLean, Ellie Niblock, Hazel O'Sullivan, Kinga Oktabska, Marine One, Aaron Peever, Maria Positano, Kialy Tihngang.
Contact Information
Email: [email protected]
CLT Ambassadors @adelaidedamoah @haroon._.mirza @emmanuel__unaji
CLT artists: @shioriakiba_ Urania's Children @enejgala @zarinakhan @lindsaymapes @maxxart.co.uk @ruorumou  @mimisrapture, @hanne_peeraer, @presidents @lukegrosch
Hypha Studios Artists @turpentinequeen @paulstefanbarbu @luca_bosani @florabradwellart @hotdesque @chrisrabbitartt @elliot_fox @jonkipps @saramarinangeli7  @celesteamcevoy @lindseyjeanmclean @ellieniblock @hazelosullivanart @kingaoktabska  @marine_one_art @peevers_artwork @maria.positano @kialytihngang
"MELT" PRIVATE VIEW 11TH OCTOBER
"MELT" INSTALLATION SHOTS
Featured artists in "MELT"
Adelaide Damoah
Fernande. Pigment and ink on hand made cotton rag paper. 37 x 53 inches
Images courtesy Adelaide Damoah
Photographed by Todd White Art Photography www.toddwhite.co.uk
Aaron Peever
The Coronation 2021 oil on linen 60 x 50 cm
Carina Samantha Santos
We will conquer this wilderness 2023 Oil on pigment on canvas 61 x 46cm
Celeste McEvoy
 Makes No Odds 2023 Unfired Earthenware clay car badges (metal and plastic mixed) cardboard gaffer tape variable size can be upto250 x 400m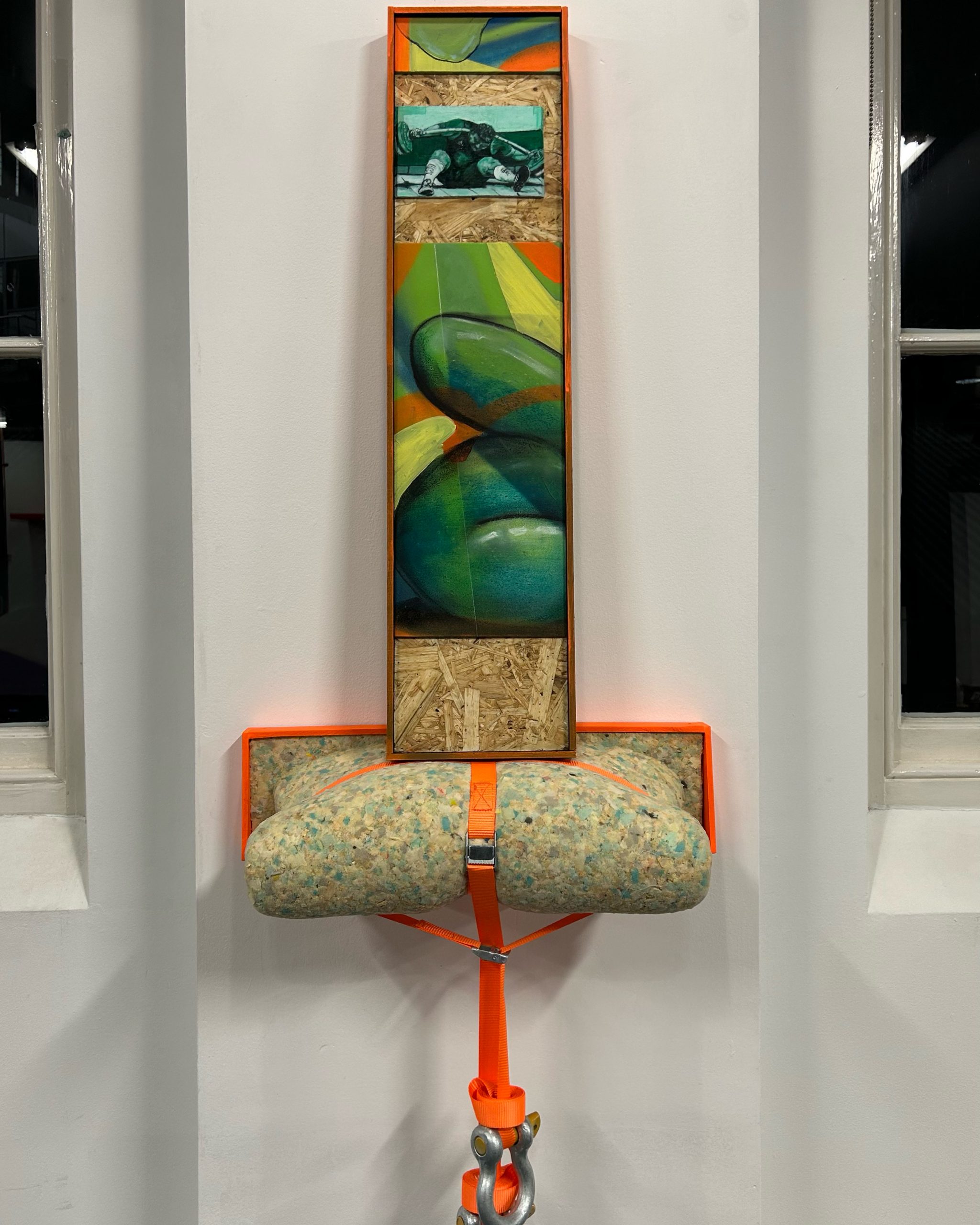 Chris Rabbit
Folded under the pressure of male expectation 2023 Oil acrylic soft pastel and spray paint on canvas. Shelf made from chip foam wood and tie down straps 92 x 26cm
Ellie Niblock
Ouchiewawa Hanging or free standing sculpture 120 x 100cm
Paul Barbu
Blasphemous 
Mixed media
120 x 85cm
Elliot Fox
Ant Talkin 2023 Aluminium MDF foam resin copper sulphate and card 120 x 100 x 175 cm
Elliot Fox
Deeper Underground 2023 OTBT videowork duration 8.23
Emmanuel Unaji
Tems, If Orange Was A Place, 2023 ink on velvet shimmer
140 × 200 cm
Enej Gala
Wheelbarrow, synthetic fur, variable sizes 2022
Flora Bradwell
Tree Hugger 2023 Acylic on calico on curtain rail 230 x 130 cm
Hanne Peeraer
The Glass of Milk Pencil on Perspex 25 x 40cm
Hanne Peeraer
Pop, pencil on perspex, 50 x 37 cm, 2023
Haroon Mirza
After the Big Bang, 2014
Digital picture frame, Marshall amp
After a Bing Bang, 2023
Guitar amp, speaker driver, iPad.
Dimensions variable.
Hazel O'Sullivan
Magnolia 2023 Acrylic paint wood stain fabric veneer fixings plastic and metal sponge and copper on birch plywood and walnut 4.7 x 2.2 x 0.5m
Hot Desque
Reconstruction of Headlamp (uncertain age) 2023 Animation  video loop Graphic Dan Johnson
Hot Desque
Terrestrial Act film 10 minute video loop featured artists Sam Carvosso Anna Reading, Davina Ann Robinson Hannah Rowan Harry Smithson Giordio van Meerwijk
Urania
Self-Mythology
Fragrance
Notes of Ginger, Black Pepper, Cedar, Palo Santo, Iris and Amber
Jon Kipps
Behexen 202 Tulip MP MDF Valchromat cable ties washi reflective stickers 12.5 x 4.5 x 13.5cm.
Jon Kipps
Cold World 2022 MDF walnut valchromat aluminium mesh stainless steel rubber, wool, spray paint 17 x 20 x 10cm
Jon Kipps
Peace Test 2023 mycellium wood dye, chameleon paint rope vinyl lettering flexi ply 126 x 105 x 105cm
Kialy Tihngang
But wait… there's more!', 2023 Single channel video 2 minutes 49 seconds
Kialy Tihngang
Infomercial (Useless Machines), 2021 Single-channel video, 2 minutes 10 seconds.png
Kinga Oktabska
Riverspaces Reach 2023 Metalpoint graphite and chalk on gessoed wiiden panel 46 x 61 cm 
Lindsay Mapes
Dabbles 2020-2023. 
Polymer clay and Velcro 
59 pieces varying in size and scale 
125 x 115 cm
Lindsey Jean McLean
Boa on Fire 2023 oil on linen 180 x 150 cm 
Luca Bosani
UPO (cornillaro) S – 2023, 80s vintage platform boots, plastics, aluminium, expanded polystyrene, acrylics, studs, 55x60x35cm each
Margaret Ayres
Bunny 2023 Oil on linen 35cm x 45cm
Margaret Ayres
"A Momentary Loss of Muscular Coordination"
Oil on linen
43 x 43cm
Maria Positano
Beetle Shield in Gold 2023 paper pulp, restoration powders, crome pgments, epoxy putty, black clay, steel base 70 x 30 x 50 cm
Marine One
Untitled (Nicolas and Ryan) 2023 Fabric foam, sponge, thread toy, stuffing, shifts hoodies and tie. Installation 150 x 110 x 45 cm
Max Maxwell
Parthia II 2022 Oils metal leaf on Aluminium panel 85 x 72.5cm
Mimi Owen
Boy Problem Oil on canvas 46 x 61 cm
Ruoru Mou
Grasshoping, 2022
Palm leaves, oxidized iron, pewter, metal thread, swivel hooks
29 cm x 5.7cm x 3cm
Sara Marinangeli
Leaving a Mark, the Mark 2019 Unique C type Handprint 125 x 160cm
Shiori Akiba
Tangents 2018
giclee print
28 x 42cm
Shiori Akiba
Tangents 2018
giclee print
28 x 42cm
Zarina Khan
Some kind of use for your Noise, oil paint acrylic on canvas 200 x 170 cm
The CLT x HS artists come from all over London! CLT's current studios are in Hackney Wick, but as you can see the organisations support artists from across the whole city!
The Euston Tower space being used for 'Melt' is a new Hypha Studios site that will bring artists back to the heart of the city, where they can work and exhibit their practices.
We have had 107 applications for this location from which we will programme 8 x 6 week long exhibitions which the artists will use for free, in return for a public programme that will engage the local community. Keep your eyes on our socials for more information!
Haroon Mirza
Creative Land Trust Ambassador
I became involved in with the CLT for the simple reason that it's imperative for the cultural wellbeing of our capital to accommodate and support artists. Art is at the very core of creativity and without it we are are stale. London and the UK is quickly becoming inhospitable for creative practices, which needs to be thoroughly addressed immediately
@haroon._.mirza
AARON PEEVERS
Hypha Studio Artist
From previously working with Hypha Studios, they have provided a space for working-class artists to exhibit within the capital city when prices of studios and exhibiting spaces are high. From this opportunity, I was able to exhibit new artwork that hadn't been seen. This exhibition promoted me and other working-class artists, and the event was picked up by Dazed magazine which promoted my artwork and gave me confidence in my art practice.
@peevers_artwork
CELESTE MCEVOY
Hypha Studio Artist
Making 'Makes No Odds' at Hypha allowed me to make a large-scale work that I did not have scope to do in my studio. It meant that I could experiment with scale in a way that I am prohibited from doing in the space I normally have. It also allowed space to host our '3D Women' support group where we focused on addressing lack of space and affordability in London.
@celesteamcevoy
ELLIE NIBLOCK
Hypha Studio Artist
Working with hypha studios has offered a fantastic opportunity for me and my peers to exhibit together for the first time, and has given us a platform to present our work to a wide audience. This leads to further opportunities and gives us a great chance to network.
@ellieniblockartist
SARA MARINANGELI
Hypha Studio Artist
Being part of Hypha's Exhibition Space has been extremely beneficial for my art practice. Hypha's show has enabled me to share a new series of work with a broader audience while connecting me to artists, curators, galleries and fundraising opportunities.
@saramarinangeli7
JON KIPPS
Hypha Studio Artist
I found the building (a disused supermarket) a really interesting place to show artwork, spaces like that are a good fit for my work which draws influence from the myriad of way humans shape the world around them and I'm grateful whenever these kind of places are made available for artists – this feels particularly important in a world which normally prioritises capitalist wealth at the expense of everything else.
@jonkipps
HAZEL O'SULLIVAN
Hypha Studio Artist
I feel so lucky to have spent it with other artists that I admire and can now call friends, and I really felt part of a community. The time and freedom I experienced has sped up the evolution of my practice exponentially, and I've continued to explore the same themes and investigations that I discovered during my time with Hypha Studios. 
@hazelosullivanart
LINDSAY MAPES
Creative Land Trust Artist
Having a new studio with CLT on Wallis Rd. has had a huge impact on my work. I have the dream space! Not only is there freedom to make work as big or small as desired but the location and community is excellent. I am also very much looking forward to curating an exhibition and create workshops for the community in Hypha Studio Stafford space. 
@lindsaymapes
LUCA BOSANI
Hypha Studio Artist
I am extremely satisfied with how my residence is developing. Through my first months at Hypha Studios Battersea, my practice has greatly developed. I have increased my public base, sales and international presence. I am very thankful and I feel privileged to be supported by Hypha; without a secure studio where to work and create, this career progress would have not been possible.
@luca_bosani
KINGA OKTABSKA
Hypha Studio Artist
The studio has encouraged me to be more expansive in realising the project: not only in having a space for producing work but also to collaborate and exchange ideas. The public events organised at the studio with support from Hypha are valuable to me in creating a dialogue with the local community. I also had an opportunity to develop work with a larger scope, currently working on a large-scale drawing installation following my walk to the studio down the rivershore.
@kingaoktabska
HANNE PEERAER
Creative Land Trust Artist
Having the studio on Wallis Road has been a blessing. It can be so tough to find affordable decent studio spaces in London and this place ticks all the boxes.
@hanne_peeraer
MAX MAXWELL
Creative Land Trust Artist
I am very pleased to be a member of Mainyard Studios and associated with the CLT charity. My affordable studio space is great for the production of my artworks, paintings and sculptures. Mainyard studios has brought me many opportunities allowing me to get involved in different creative projects and also some great networking events encouraging meeting other creatives.
@maxxart.co.uk
FLORA BRADWELL
Hypha Studios Artist
In early 2023 I was part of the curatorial team behind Who Holds The Sword at Hypha's Stratford Space. It was a gloriously daunting and equal measures thrilling experience to be handed the keys to such a big space. We had tremendous fun in bringing the site to life and it was so meaningful to be trusted to do so by Hypha. The chance to play on such a visible platform was delicious.
@florabradwellart
MARINE ONE
Hypha Studio Artist
The primary advantage of being able to use this space is its affordability. Given the rising rents in the city that have been pushing artists out, having access to an exhibition space for free allows us to focus more on our creative process without the financial stress.
@marine_one_art
MIMI OWEN
Creative Land Trust Artist
This is the first studio I've ever been able to call my own and it has been such a joy to be working here and amongst other creatives in what feels like a really exciting time to be making work.
@mimisrapture